Fleck Leads Collaboration on Bach's Inventions
Banjoist Bela Fleck joins violinist Caroline Goulding, bassist Michael Thurber, and marimbist Yi Wei in performances of Bach's Violin Sonata in G minor, Presto, and Bach's Suite of Two- and Three-Part Inventions. This segment originally aired on Sept. 20, 2006.
Breathing Life into Bach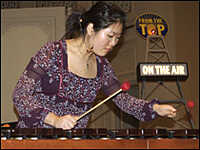 Award Recipient
Congratulations to Yi Wei, recipient of the Jack Kent Cooke Young Artist Award. Yi will receive an award of $10,000 to help her continue her music studies and assist her with music-related needs.
Yi Wei, 18, is an accomplished percussionist, but she started out as a violinist. She was introduced to percussion in the fourth grade and quickly grew to love it.
Whenever I play the Presto from Bach's Violin Sonata in G minor, I get very emotional and attached to each note. When I first started learning it, I saw "Presto" and tried to play it as fast as possible, just like the violin virtuosi I heard on recordings. However, I neglected to realize that the beauty of Bach lies in the importance of each note; miss one and risk sounding like a skipping record.
My dad, who is a violinist taught by my grandfather, ended up working with me a lot on the piece together. Whenever I play it, images of our musical generations flood my mind and heart.
It has taken me years to fully understand the power of music, and learning Bach's Presto has contributed significantly to this musical maturation.
At first glance, the most difficult aspect of the piece is to nail the accuracy. If the player does not have the technical skills to do so, this piece would be very challenging. But beyond the technical aspect, the most difficult aspect, by far, of the piece is to nail the artistic interpretation. Behind each musical phrase that Bach writes is so much depth in meaning and feeling.
My father said something that I will remember so long as I play music. He said that there are young musical prodigies who can nail every note in the most technically difficult pieces, but what most lack is the ability to translate their human experience into unforgettable images of life. I had to learn how to slow down (much more difficult than speeding up) and figure out how I wanted each note to sing.