Revived Documentaries 'Plow' into the Present
Revived Documentaries 'Plow' into the Present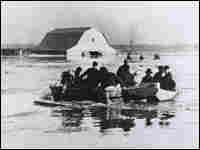 With heartbreaking footage, narration written in poetic verse and a folk-inspired score, a young director created some of the earliest American propaganda films.
The Plow That Broke the Plains was released in 1936. Director Pare Lorentz knew that the devastating drought on the Great Plains would be a dramatic subject for his first film. Hollywood wasn't interested, but the U.S. government also wanted to make a point about the Dust Bowl and agreed to fund his film.
Two years later, they financed The River, in the hope that it would make the case for massive flood-control projects on the Mississippi.
Both films are widely recognized for their cinematography and for music by American composer Virgil Thomson. The images have been restored and released on DVD, with Thomson's original score performed by the Post-Classical Ensemble. Spaniard Angel Gil-Ordonez conducts.
Government officials hoped the films – produced in support of President Franklin Delano Roosevelt's New Deal — would help sell to the American public the need for federal assistance for the victims of dust storms and floods.
The documentaries may be propaganda, but, in the case of The Plow That Broke The Plains, the history of the Great Plains is accurate, says Tim Egan, author of The Worst Hard Time: The Untold Story of Those Who Survived the Great American Dust Bowl. The films are widely recognized for their deft combination of images, poetry and music.
The River opens with a 19th-century hymn, with images of crystalline drips of water coalescing into streams. But the power of the river was also destructive, and the film culminates with dramatic footage of entire neighborhoods under water.
The plan to restore the two films was made just months before Hurricane Katrina. Since then, there have been a handful of live performances of the score by the Post-Classical Ensemble, including a benefit for hurricane victims.
Related NPR Stories
Web Resources