Acrobatic Alice Tumbles Through 'Lookingglass'
Acrobatic Alice Tumbles Through 'Lookingglass'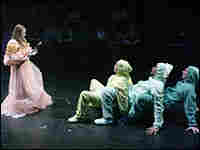 More from the Interviews
Director David Catlin on Charles Dodgson
Catlin on the Use of the Chess Board in 'Alice'
Actor Larry DiStasi on Dodgson's Imagination
There are many ways to describe Lewis Carroll's Alice in Wonderland and Through the Looking Glass: among them, whimsical, clever, hallucinatory — but muscular?
It's an appropriate description for a groundbreaking Chicago theater company's new production, in which Lewis Carroll's classic story is given an athletic interpretation.
The show, Lookingglass Alice, is produced by the Lookingglass Theatre, an award-winning ensemble that launched the careers of actor David Schwimmer of the hit TV series Friends and Tony Award-winning director Mary Zimmerman.
Several Northwestern University acting students launched the company 20 years ago, using Schwimmer's bar mitzvah money to produce an avant-garde adaptation of Alice in Wonderland.
David Catlin was one of the actors in that production. Now the Lookingglass' artistic director, he says the group rarely produces traditional plays.
From the start, the Lookingglass matched their literary ambitions to strikingly physical productions, says Hedy Weiss, theater critic for The Chicago Sun-Times.
"They really are shape-shifters," she says, recalling the group's very first production: an adaptation of Upton Sinclair's The Jungle where actors portrayed slabs of meat hanging on a conveyor belt.
Ensemble member Larry DiStasi says that while the actors liked doing physical work in those early days, they lacked circus skills. So they decided to take some lessons.
"We managed to find a circus performer who had just moved to town, who had just run away from the circus, and she agreed to train us to do trapeze and teeterboard and Spanish web and all these exotic things that we wanted to do," says DiStasi, who ended up marrying the woman who trained the group.
And with circus training under their belt, the Lookingglass actors are revisiting Alice in Wonderland. Catlin has adapted and directed the new show, which uses five actors, all with circus abilities, to tell Lewis Carroll's mind-bending tales in a dynamically physical way.
"There's so much in Lewis Carroll that is about being off balance and falling," Catlin says. For instance, Alice falls down a rabbit hole, and Humpty Dumpty falls off the wall.
"When I go to the circus, I get that sort of off-balance dizziness," he says.
Lauren Hirte, who is 26 years old and 5 feet tall, says portraying Alice is quite a workout.
"This is definitely one of those roles that kind of extends the limits on all horizons. There's regular acting, there's physical stuff on the ground, there's acrobatics up in the air," Hirte says.
When Alice tumbles down the rabbit hole, Hirte does a routine on the lyra, an aerial device that resembles a hula hoop. Later in the play, she flies high above the stage in a Cloud Swing, a thick rope that hangs in a loop — in this case, actually a series of loops, which expresses the tangle of life that Alice is trying to wrestle through.
"At first she struggles with it, and then, by the end of it, she's mastered it, and she's soaring above the audience," Catlin says.
Doug Hara, a Lookingglass ensemble member since 1991, plays the Mad Hatter, the White Rabbit and Humpty Dumpty. He says the actors did a lot of improvisation.
In the chaotic Mad Hatter's tea party scene, it was all about using chairs, which get flung into different positions. Actors jump over them, run across them, and hurl them into huge, messy piles.
The physicality of this production isn't just for show: It serves the story and its themes. For instance, Humpty Dumpty's gasp-inducing fall dramatizes Alice's coming to terms with loss and grief. And to frame the story, adaptor Catlin added the character of Lewis Carroll, aka Charles Dodgson, the shy Oxford mathematician who created the Wonderland tales for a real child named Alice.
DiStasi, who plays Dodgson, says his character gives adult meaning to a children's story.
"I think there's a big message about holding on to your childhood and not being so eager to go in a straight line forward to maturity, because there's so much that is wonderful and magical about childhood," he says.
Lookingglass Alice is currently playing at New York's New Victory Theater. It goes to Philadelphia's Arden Theatre in May and returns to Chicago in June for an open-ended run.
Related NPR Stories
Web Resources