The Letters of Otto Frank
Anne Frank's diary is familiar to many. Now, the release of letters written by her father reveal more about the family's attempt to flee to the U.S. during World War II. The Franks went into hiding after being denied visas to America.
SCOTT SIMON, host:
It's seems almost a cruel joke of history to learn this week that Ann Frank's family tried to get into the United States in 1941. The young girl, whose vivid, funny and uncommonly wise diary has embodied the crime of the Holocaust for millions of people, might have lived. She might have grown up, written books and had children.
In April 1941, Otto Frank wrote an old friend for help, Nathan Strauss Jr., with whom he'd attended Heidelberg University and whose family owned Macy's department store. Perhaps you remember that we have two girls, Mr. Frank wrote. It is for the sake of the children, mainly. Our own fate is of less importance.
Otto Frank had actually worked at Macy's for a year after their graduation in 1908 and loved New York. But he went back to Europe when his father died in 1909. This week an institute for Jewish research released records from old refugee agencies that document the desperation of Jews trying to leave Europe as Nazi persecution spread. The names of the Frank family are merely the best known among millions.
Mr. Frank first applied to get into the United States in 1938 but didn't pursue it. That might be difficult to understand now, but in 1938 millions of thoughtful people in Europe and America just didn't believe that Adolph Hitler would annihilate the Jews.
They thought his scalding screeds about Jews must be some kind of pose, a joke or a ruse or that the great democratic powers wouldn't let him get away with it. Mr. Frank applied again in 1941, after the fall of Poland, Holland and France, the opening of concentration camps, and the blitz of London. But 300,000 people had applied for the few thousands of slots open to come to America.
Appeasement wasn't yet considered silly here. Respectable people made apologies for Hitler, saying he was merely trying to avenge Germany's humiliation. Many Americans feared being sucked into Europe's war, and to be sure, many respectable people were anti-Semitic. A rule barred anyone with relatives living in Germany from being admitted because the Nazis might blackmail refugees into carrying out acts of sabotage. Maybe that fear seemed reasonable then. I wonder if happened even once.
Nathan Strauss was a prominent man and tried to use contacts in the Roosevelt administration to get a visa for the Franks, but to no avail. Within a few months, Otto Frank took his family into hiding in the upper rear rooms of his factory, where they hid for two years with the Van Pels and Fritz Pfeffer before being discovered and sent to death camps.
Historical analogies are tricky, but this week as we may try to imagine Anne Frank is a 77-year-old grandmother in Florida or New Jersey, we may also wonder about some of those millions trying to get into the United States today. Who are we keeping out and what do we lose by turning them away?
NPR transcripts are created on a rush deadline by Verb8tm, Inc., an NPR contractor, and produced using a proprietary transcription process developed with NPR. This text may not be in its final form and may be updated or revised in the future. Accuracy and availability may vary. The authoritative record of NPR's programming is the audio record.
Letters of Anne Frank's Father Uncovered
The Correspondence of Otto Frank
"Perhaps you remember that we have two girls. It is for the sake of the children mainly that we have to care for. Our own fate is of less importance."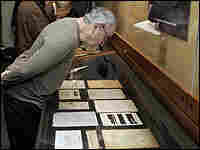 Handout / Reuters / Corbis
A year and a half ago, Estelle Guzik was indexing some 100,000 Holocaust documents in the archives of the YIVO Institute for Jewish Research in New York when she stumbled across something remarkable. Amongst the files were the undiscovered letters of Otto Frank, the father of famed diarist and Holocaust victim, Anne Frank.
The documents had been moved there more than 30 years before from the Hebrew Immigrant Aid Society. While indexing, she noticed one of the birth dates was missing from a file.
"Estelle Guzik reopened the file to locate the birth date and then immediately came upon the names of Anne and Margot Frank," says Dr. Carl Reins, Executive Director of YIVO.
Due to a clerical error, Guzik rediscovered the letters that illuminate Frank's failure to get his family out of Nazi-occupied Holland.
After the files were found, they were embargoed until issues of privacy, copyright and provenance could be determined. Since the Hebrew Immigrant Aid Society documents came from so many different agencies, it may be impossible to locate the source of the Otto Frank file.
The Failure to Get Out
Between April and Dec. 1941, Frank wrote to relatives, friends and officials, trying to arrange safe passage for his wife, Edith, and daughters, Margot and Anne, either to the U.S. or Cuba.
Frank first applied for immigration in 1938 and then revived those efforts in 1941. In hindsight, that seems very late. But historians today say that in the spring of 1941, Germany had not yet decided to exterminate the Jews, and the Nuremberg Laws that discriminated against Jews had not yet taken effect in Holland.
"This is not a peculiar story," says David Engel, a professor of Holocaust studies at New York University. "It is, all too sadly, an all too-typical-one."
But because of the detailed and beautiful writing in Anne Frank's diary, her saga has become a doorway into understanding the Holocaust for millions.
Barriers on Both Sides of the Ocean
Both Engel and Richard Breitman, a professor of German history at American University, say the documents reveal that the actions of Nazi Germany weren't the only impediments that kept the Frank family from fleeing.
"Anne Frank could be a 77-year-old woman living in Boston today – a writer. That is what YIVO's documents suggest," says Breitman. "The Frank family could have probably gotten out of the Netherlands even during much of the year 1941 but the decision to try hard came relatively late. The Nazis made it harder and harder over time and, by that time, the American government was making it harder and harder for foreigners to get in."
According to Breitman, the U.S. restricted immigration in the name of protecting national security. A suspicion of those who were different, Anti-Semitism and xenophobia played a part. Otto Frank had powerful friends in the U.S., including Nathan Straus, the son of an owner of Macy's. Straus agreed to pay thousands of dollars to help secure visas and documents, but it was not enough.
Frank then attempted to gain entry into Cuba, but those plans were cancelled when Germany declared war on the U.S. The Franks went into hiding in 1942 and were discovered and arrested two years later.