New York Critics Hail 'Heights' Composer
New York Critics Hail 'Heights' Composer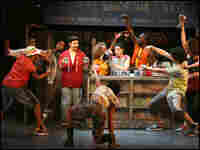 The Off-Broadway debut of a 27-year-old Dominican/Cuban composer is drawing critical praise for its music, which mixes salsa, meringue, hip-hop and other musical styles with traditional Broadway fare.
Lin-Manuel Miranda's musical In the Heights is set in Washington Heights, a northern Manhattan neighborhood that has seen waves of immigrants over the years.
Washington Heights has been home to Irish, Jewish and Italian immigrants, followed by Cubans and Puerto Ricans. Miranda, who wrote the music and lyrics for the show, grew up in Northern Manhattan. Now the neighborhood, he says, "is a largely a Dominican community. But it is a stew up there, and what we tried to do is reflect that stew on stage generationally and in the styles of music as well."
Miranda also plays the main character, Usnavi, who owns a corner bodega. Miranda says he was attracted to Broadway music when he studied theater. But at home, his musical influences were a mix of la lupe, Celia Cruz, Tito Puenti and Juan Louis Guerra. But he also grew up with rap — he says he got lessons as a kid from his school bus driver.
Miranda wrote the first version of In the Heights when he was a sophomore at Weslyan College. It was mainly a love story with the backdrop of the Heights. But after graduating and returning to New York, Miranda changed the focus and many of the characters. He also collaborated with Quiara Alegria Hudes, who wrote the book.