Graboids: 'Panda Cam 1'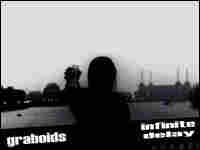 The story of Graboids begins early in the lives of two brothers. Matthew and Stuart Watson practiced together for years in Charlottesville, Va. They started off playing at home, then at talent shows for each other's schools.
In 2000 they were joined by their friend, Andrew, a high school classmate who sat in on their talent show performances. Within a couple of years, their sound had evolved and matured. They booked shows in the Virginia area and played whenever the three could get together.
In 2003, the group put out the EP Pure Noise. It was self-released with a limited run of 100 copies. While the band came in and out of hibernation periodically, there was never any doubt whether they would continue. In their online bio, the group says "it always meant too much to everyone," to quit.
Meeting back on one stage was always the objective. By December 2005, the band was together again for the foreseeable future. Jim Hale joined as a permanent member right before a July 2006 tour, traveling the East Coast and Midwest.
Graboids has since added Jim Hale as a new member. They're currently planning a full coast-to-coast tour this summer, with an eye to Europe for distribution of their new album, Infinite Delay.