Iraq War's Effects Seen, Felt in High School's Halls
Listen to Part 1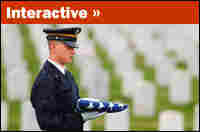 At a high school in Killeen, Texas, the imprint of the Iraq war is felt every day, by virtually every student.
Killeen is home to Fort Hood, where the Army's Fourth Infantry and First Cavalry divisions are based. The two divisions have alternated deployments through the last four years of war.
About 90 percent of the 2,000 students at Shoemaker High School have at least one parent in the military. The school's hallways are adorned with big, royal blue and silver cardboard stars. There is one for every parent who has been deployed to Iraq since the war began.
School counselor Barbara Critchfield and some colleagues had the idea for the stars soon after the war began. She recalls that they bought 80 stars with their own money, at 84 cents each.
But when they surveyed the students, they realized they didn't have nearly enough. They bought a thousand more, and then a thousand more.
And hanging above the school's entrance are seven gold stars — one for each parent who has died in Iraq. Critchfield says she often looks up as she walks through the halls.
"And a name will pop out, and I'm like, 'Oh, I need to check on him or I need to check on her,'" she says.
The absence of parents is inescapable. Once, after a football game, the opposing school sent Shoemaker a plant.
"They had noticed the absence of parents on our side of the stadium during the football game. And it struck them so hard, and they realized that our kids were doing all this without parents," says Critchfield.
Shoemaker has had four principals in three years. All the counselors are new this year, except Critchfield, who has been at the school for six years.
For students, life is filled with the usual teenage concerns: exams, football practice and young love. And yet, the war overshadows everything.
Take Eugene Daniels. The senior will play football at Colorado State next year. On a recent day, he was carrying a memory book filled with family photos. But there are just three or four pictures of his father, an Army lieutenant colonel in military intelligence.
"They're probably when my sister and me were born," Daniels says of the photos of his father. "So he's been gone quite a lot. Every time they go somewhere, he's deployed."
Since 2001, his father has been home for a year's duration just once. Many responsibilities fall on Daniels' shoulders.
"It's a lot on the students, because we're just teenagers, and I think a lot of time we forget that, because you have to grow up so fast," he says.
Critchfield says with so many parents away, school attendance has fallen. Students' grades start to slip, so fewer are graduating. The school also is seeing more discipline problems.
She also says some students worry their mothers might commit suicide while their fathers are deployed. As a result, the kids stay up all night, keeping watch.
And it's not just the students. Many teachers at Shoemaker have a spouse who has been deployed in Iraq.
Cynthia Kovach teaches art at the school, and her husband is in Iraq with the 1st Cavalry. He came home from his last deployment with what she calls "really bad" post-traumatic stress disorder.
Kovach says the longer the war goes on, the more she sees the effects on her students.
Senior Amanda Gillinger's mother is a fueler with the 4th Infantry. Gillinger's best friend is Allissa Richards, whose stepfather is a driver with the 1st Calvary and is currently in Iraq.
"What's really sad is that last goodbye could be your last goodbye — that last time you're there with that person," says Richards.
Gillinger recalls, with regret, yelling at her mother the day before she left Fort Hood for her deployment.
"We fought. I was hateful. Everything you do, you regret. You can't go back and change it. I can't say 'Mom, I'm sorry,' because she's not there. And that is devastating," Gillinger says. "You're not the same after something like that. You can't be, because it takes you and twists you and turns you, and you come out with something totally new."
Gillinger and Richards both say they don't watch the news, and they don't want to know where in Iraq their parents are deployed: They don't want to be even more frightened than they already are.
For now, the seniors at Shoemaker High are looking ahead to graduation in May. They are hoping their parents will be there, but as they've learned over the last four years, they can't count on it.
NPR's Melissa Gray produced this story.
'Gold Star' Efforts Help Families of Fallen Soldiers
Related NPR Story
In a perfect world, the group wouldn't even exist. But at Fort Hood, its members do a lot of good.
Helping Unite Gold Star Survivors is a support organization for the families of Fort Hood soldiers killed in action.
The group, known as HUGSS, serves more than 50 families in the Killeen area of Texas. Through e-mail and phone calls, its reach expands to more than 250 people throughout the state.
Though it's based at Fort Hood, the nonprofit is funded by private donations and run by volunteers.
Debbie Busch started the organization three years ago, after discovering that many of the needs of Gold Star families were not being met. The wife of a command sergeant major, Busch has led family readiness groups during her 25 years as an Army spouse.
During the first few days of Operation Iraqi Freedom, a friend of her husband's - another command sergeant major - was killed. Busch contacted his widow to offer her support. Several months later, the widow asked Busch, "Why are you the only one who still cares and calls me?"
As the support group grew, members began comparing notes. One thing became clear: Fort Hood's casualty assistance officers needed better training.
The main job of a CAO is to keep family members informed and to ensure they receive all the benefits to which they're entitled.
But some CAOs weren't following up in the weeks and months after a soldier's death; families felt abandoned and disconnected from the military.
HUGSS pushed for and helped create a 40-hour training course for the officers. In addition to receiving a refresher course on which agencies provided services and benefits for Gold Star families, CAOs learned more about coping with grief and about the different counseling and support options available for survivors.
Busch says now she hears praise for the CAOs from new Gold Star families, and the Army is using the training course as a model for programs at other bases.
Today, HUGSS operates Fort Hood's new Gold Star Family Support Center. There are three different children's playrooms and a cozy meeting room, furnished with overstuffed couches and comfy chairs for adults.
Boxes of tissues stand sentry in every room, where a sympathetic ear, emergency childcare or other extra assistance is usually available.
Ever mindful that Gold Star families worry about being forgotten, volunteers regularly call or send notes on days that are hard for survivors: birthdays, holidays and the anniversaries of their soldiers' death. The support group meets at the center about every two weeks.
Ursula Pirtle, 37, got involved with HUGGS in 2004, after her husband Heath, an Army gunner, was killed in Iraq. She was eight months pregnant when he died.
"This is a unique place," Pirtle says. "Before Debbie, there was no place to go, no place to bring us together."
Pirtle says she has learned a lot from trial and error, and from talking with other widows.
"You don't want someone to tell you, 'I know how you feel,' because they don't. But it's nice to hear, 'I've been through this, I imagine it's rough on you. Here's some advice that worked for me and some things that haven't. I'm happy to share with you,'" Pirtle says.
Wendy Weikel is a new member, and she says it's comforting to see how other people live with their loss. Women like Pirtle, who are still grieving but are able to smile and embrace the positive aspects of their lives, give Weikel an idea of what her own life might be like a year or two from now.
Weikel's husband, Ian, died in April 2006. The two met when they were students at West Point, and both went to Iraq in 2003. A former company commander, Weikel left the Army soon before their son Jonathan was born.
On advice from the other widows, Weikel made what she calls a "preemptive strike" on her first Christmas without her husband.
"I wanted Jonathan to be happy and to be with smiling faces, something I couldn't give him," she recalls.
So she left him with his grandparents and spent part of the day at Ian's grave at Arlington National Cemetery.
"I had to see his name on that tombstone to understand fully in my head what's going on. It's what I personally needed on Christmas," she says.
Weikel credits the Gold Star Center for helping her navigate the good days and the bad, and for keeping her connected to the military community.
Busch says when she hears of Fort Hood casualties in the news, she knows more families will be coming her way.
"There's always a need for personal contact," she says.
Her organization is hoping, with more volunteers and more donations, to expand its services beyond the base, to grieving families in other cities and states.
"We've done things here at Fort Hood to improve the care of Gold Star families, but it's our nation's responsibility to help care for these families," Busch says.