New Life Church Searches for Pastor, Closure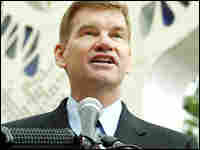 It's been a difficult few months for the 14,000 members of the New Life Church in Colorado Springs. In November, Senior Pastor Ted Haggard had to step down after his relationship with a male prostitute came to light.
Haggard — who also headed the National Association of Evangelicals — was fired and whisked off to Arizona for intensive counseling and, except for a few open letters to the church, has remained silent.
But the pain hasn't subsided for the members of his congregation. Some miss his presence, while others struggle simply to explain the situation to their children.
The church has already begun searching for a replacement, a process that could take up to a year. In the meantime, they will pay Haggard's $130,000 salary through 2007 — on the condition that he and his family move away from Colorado Springs.
A few weeks ago, the man who first made allegations about Haggard's behavior — Mike Jones — showed up at New Life Church on Sunday morning. Gathering material for a book, the former prostitute said he was greeted warmly and was thanked for exposing the pastor.
"He revealed a flaw in one of our members," said New Life Church member Landon Arnold. "I believe as a body of believers we are grateful for that because he has made us stronger."