Generous to a Fault: Harry Herz, Pipe Salesman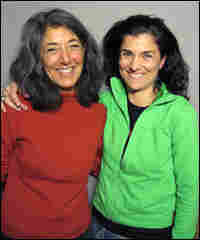 Questions or Comments?
Being called "Toots" or "Babe" might have irked some of the women Harry Herz met. It mortified his daughter, Catherine Dwyer. But there were many other quirks about her father that she adored — and she wasn't alone.
For more than 50 years, Herz worked as a traveling salesman, stocking pharmacies in New England and New York with Kaywoodie pipes. When Dwyer was a child in the 1950s, Herz would come home for a week each month to his family in Newport, R.I.
Herz was 62 when Catherine was 10. On his visits home, he would play gin rummy with his daughter.
"He was like my grandfather," Catherine recently told her daughter, Meggan, in New York City.
Herz would also pack Catherine into the car, so they could "drive around at the jazz festival, and look at beatniks" at Newport's annual music showcase, she says. "And if you found a beatnik, he'd invite them home."
Her father was "incredibly generous," Dwyer says. People in need, people trying to start a business — all might expect a loan from Herz.
One day her father got in a car accident, Dwyer recalls, and had a heated debate about whose fault it was with the other driver. "But by the end of the argument," she says, "he had loaned the guy $10,000 to start a restaurant."
But Dwyer's mother was less enthusiastic about her husband's largesse. After all, some of the money should stay at home, she thought.
"Did so-and-so ever pay you back?" Dwyer recalls her asking Herz.
The answer was often, "Well, not yet..."
But when her father died, Dwyer recalls, "People started mailing back the money that they owed him."
"And letters started coming in from everywhere," she says, "about how my dad had helped them at this time in their lives."
Dwyer says it taught her "how important it is to connect with people."
Produced for 'Morning Edition' by Michael Garofalo. The senior producer for StoryCorps is Sarah Kramer.