A New Orleans Doctor in the House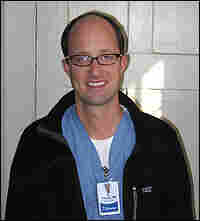 I was recently in New Orleans reporting on how hard it is to find a doctor. While there, I met Dr. Richard Vinroot Jr., a third-year resident in emergency medicine at Charity Hospital.
He made me Tunisian coffee — although he doesn't drink coffee himself. His head is spinning most of the time from his work. He had just finished a 12-hour night when we met on a Saturday morning.
Vinroot stayed during the storm, and he wants to be in New Orleans now. The young doctor told me about his father, who was a lawyer and married when he decided to serve in Vietnam after a friend was killed there. Vinroot believes Vietnam wasn't as traumatic for his father because his father chose to go.
"I think the storm for me was the same thing," he says. "I had all these patients who had all these terrible experiences. I think they were stuck here, forced to stay. I kind of chose to stay."
Vinroot thinks New Orleans these days is a great place to learn, and that he'll be a better doctor because of it. He likes the people and his little house on Constance Street, not far from the river. It has a lovely collection of folk art from countries he has visited, and enough room for a single person who works most of the time.
Vinroot has thought about joining Doctors Without Borders. But for now, he's happy coming home — tired, in his blue scrubs and white lab coat. The neighborhood people come to his door. It reminds him of his great-grandfather, a small-town doctor back in North Carolina.
"I haven't had anybody pay me with chickens or anything lately," he says. "But they do want to come and thank me for checking the [blood] pressure, and giving them a suggestion or two."
I asked him if patients just drop by without warning and knock on his door.
"All the time," he says. "I get knocks usually until 11:30 at night. And sometimes it's not that. Sometimes they just want to come in, and then ask for a beer."