U.S. Attorney Firings: An Ethical Line for Lawmakers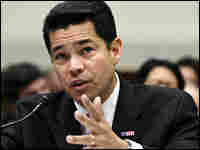 As Congress examines the Bush administration's ouster of eight U.S. attorneys, the hottest controversy comes from New Mexico. The former chief federal prosecutor there, David Iglesias, told a Senate panel Tuesday that Republican Pete Domenici, New Mexico's senior senator, called him at home 12 or 13 days before last November's election.
Political Pressure?
Iglesias said that Domenici brought up a high-profile corruption case and asked if more indictments were coming before November.
"I said I didn't think so," Iglesias told lawmakers investigating the firings. "To which he replied, 'I'm very sorry to hear that.' And then the line went dead."
Iglesias says he also heard from Republican Rep. Heather Wilson, who was then fighting for re-election against New Mexico Attorney General Patricia Madrid. The race turned out to be one of the closest in the nation last year. Iglesias said Wilson called him earlier in October and asked about sealed indictments. He said he felt political pressure in both calls.
Just what was the case that so concerned Domenici and Wilson?
It's about a long-running kickback scheme involving two former New Mexico state treasurers, Michael Montoya and Robert Vigil. They were indicted in 2005. Montoya quickly pleaded guilty to one count of extortion. Last September, Vigil was convicted on one count of attempted extortion, but was acquitted on some two dozen other charges.
Montoya and Vigil are Democrats. Republicans alleged that as attorney general, Madrid failed to dig out the corruption. Last fall, Wilson made it a campaign issue.
But the phone calls mean trouble for both Domenici and Wilson. The liberal watchdog group Citizens for Responsibility and Ethics in Washington has filed complaints with the House and Senate ethics committees.
The two chambers write their own ethics rules, but both impose limits on how lawmakers can approach an executive-branch agency. Asking for status reports or urging prompt consideration of a matter is acceptable — but not, as the Senate Ethics Manual notes, when the agency is "engaged in an on-going enforcement, investigative, or other quasi-judicial proceeding."
When a Legal Line Is Crossed
The issues at stake in this case are not just ethical. The Senate manual also warns: "Courts also have set aside agency action when congressional intervention into an ongoing adjudication created the appearance of partiality." There are two major precedents.
In 1955, a Senate Judiciary subcommittee grilled the Federal Trade Commission on an antitrust case. A federal court ruled that the senators were so explicit in their questions that the hearing violated due process. The FTC had to drop the case.
And in 1979, then-Sen. Lowell Weicker (R-CT) pressured the Securities and Exchange Commission to investigate a company. A federal appeals court refused to quash an SEC subpoena in that case, but the court said it would have done so if the investigation had been prompted solely by political pressure.
Those legal standards mean that Wilson's and Domenici's phone calls could jeopardize any future indictments in the New Mexico case. Defense attorneys would argue that Domenici's and Wilson's phone calls violated due process.
Stanley Brand, a longtime practitioner of ethics law in Washington, says this is one reason that the Justice Department could end up naming a special prosecutor to examine all eight of the U.S. attorney firings — as Patrick Fitzgerald was named to investigate the Valerie Plame-Lewis Libby case.
Domenici just held a fundraiser for his 2008 re-election campaign. But now, at age 74, he could decide that the Iglesias controversy tips the balance against running again. Wilson, after squeaking through to re-election last fall, was seen by Republicans as Domenici's logical successor.
The biggest break for Domenici and Wilson may be that the Democrats don't have strong candidates ready to go.