U.S. Attorneys Testify About Their Firings
U.S. Attorneys Testify About Their Firings
Six of eight federal prosecutors fired by the Bush administration testify before House and Senate committees. Congressional Democrats are looking into allegations that the attorneys were fired for political reasons.
RENEE MONTAGNE, host:
This is MORNING EDITION from NPR News. I'm Renee Montagne.
STEVE INSKEEP, host:
And I'm Steve Inskeep.
One thing about getting fired is that you have time for other things in your life. And some former U.S. attorneys now have time to inform Congress how they were fired by the Bush administration. One says he felt threatened for speaking out in public, while others remembered lawmakers calling them about specific investigations. Behind all that testimony is the question of whether people in power tried to influence the justice system.
NPR's Brian Naylor reports.
BRIAN NAYLOR: The six former U.S. attorneys were among eight dismissed by the Bush administration late last year. They were called to testify by Democrats in the House and Senate looking into whether the firings were politically motivated.
David Iglesias, the former prosecutor in New Mexico, had the most interesting story to tell, recounting phone calls he took from two members of that state's congressional delegation. The first came from Republican congresswoman Heather Wilson, who last October, in the heat of a pitched reelection battle, asked Iglesias about possible indictments in an ongoing corruption probe involving Democrats.
Mr. DAVID IGLESIAS (Former U.S. Attorney): She said, what can you tell me about sealed indictments? The second she said any question about sealed indictments, red flags went up in my head because, as you know, we cannot talk about indictments until they're made public. In general, we specifically cannot talk about a sealed indictment.
NAYLOR: Iglesias said a few weeks later he got another call from a New Mexico Republican. This time it was Senator Pete Domenici on the phone.
Mr. IGLESIAS: And he wanted to ask me about the corruption matters or the corruption cases that had been widely reported in the local media. I said, all right. And he said, are these going to be filed before November? And I said, I didn't think so. And to which he replied, I'm very sorry to hear that. And then the line went dead.
NAYLOR: Iglesias told the Senate panel he felt sick after receiving Domenici's call and felt he'd been leaned on and pressured to get these matters moving. Domenici and Wilson have acknowledged making the calls but denied putting political pressure on Iglesias.
Another ousted prosecutor, John McKay of Washington State, testified yesterday. He, too, received a call from Congress. In 2004, McKay said the then chief of staff of Republican congressman Doc Hastings, Ed Cassidy, called, wanting to know if his office was planning to investigate the outcome of the state's gubernatorial race in which Democrat Christine Gregoire was seated after a highly charged recount.
Mr. John MCKAY (Former U.S. Attorney): When Mr. Cassidy called me, I stopped him and I told him that I was sure that he wasn't asking me on behalf of his boss to reveal information about an ongoing investigation or to lobby me on one, because we both knew that would be improper.
NAYLOR: Hastings, a member of the House Ethics Committee, issued a statement saying the call and the conversation were, quote, "entirely appropriate." Appearing before a House Judiciary sub-committee yesterday afternoon, a Justice Department official denied any of the firings were done for political reasons. William Moschella said the department wanted to do what it could to push the Bush administration's priorities in its final two years. He said Iglesias was replaced for performance-related issues.
Mr. WILLIAM MOSCHELLA (Assistant Attorney General, U.S. Department of Justice): Mr. Iglesias had delegated to his first assistant the overall running of the office. And quite frankly, U.S. attorneys are hired to run the office.
NAYLOR: Another spat developed over a conversation one of the former attorneys reported having with another Justice Department official. A.G. Bud Cummins, who was replaced by a political ally of White House aide Karl Rove, told lawmakers he had a phone conversation with a friend in the Justice Department who cautioned Cummins about talking publicly about the firings.
Mr. Bud Cummins (Former U.S. Attorney): I'm not trying to characterize that as a threat. It was a very congenial phone call. It might have been a threat, it might have been a warning; it might have been an observation, a prediction. You can characterize it. I'm going to leave that to you.
NAYLOR: A Justice Department spokesman said what was a private and collegial conversation is now, quote, "somehow being twisted into a perceived threat by former disgruntled employees grandstanding before Congress." A left-leaning advocacy group has called for ethics investigations into Domenici and Wilson's conduct. Members of Congress are barred by ethics rules from interfering in federal investigations. The political theater aside, Democrats also hope to change the law that allowed the firings and allows the attorney general to appoint interim replacements without having them confirmed by the Senate.
Bryan Naylor, NPR News, The Capitol.
NPR transcripts are created on a rush deadline by Verb8tm, Inc., an NPR contractor, and produced using a proprietary transcription process developed with NPR. This text may not be in its final form and may be updated or revised in the future. Accuracy and availability may vary. The authoritative record of NPR's programming is the audio record.
U.S. Attorney Firings: An Ethical Line for Lawmakers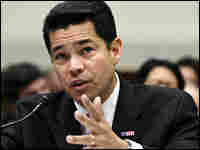 As Congress examines the Bush administration's ouster of eight U.S. attorneys, the hottest controversy comes from New Mexico. The former chief federal prosecutor there, David Iglesias, told a Senate panel Tuesday that Republican Pete Domenici, New Mexico's senior senator, called him at home 12 or 13 days before last November's election.
Political Pressure?
Iglesias said that Domenici brought up a high-profile corruption case and asked if more indictments were coming before November.
"I said I didn't think so," Iglesias told lawmakers investigating the firings. "To which he replied, 'I'm very sorry to hear that.' And then the line went dead."
Iglesias says he also heard from Republican Rep. Heather Wilson, who was then fighting for re-election against New Mexico Attorney General Patricia Madrid. The race turned out to be one of the closest in the nation last year. Iglesias said Wilson called him earlier in October and asked about sealed indictments. He said he felt political pressure in both calls.
Just what was the case that so concerned Domenici and Wilson?
It's about a long-running kickback scheme involving two former New Mexico state treasurers, Michael Montoya and Robert Vigil. They were indicted in 2005. Montoya quickly pleaded guilty to one count of extortion. Last September, Vigil was convicted on one count of attempted extortion, but was acquitted on some two dozen other charges.
Montoya and Vigil are Democrats. Republicans alleged that as attorney general, Madrid failed to dig out the corruption. Last fall, Wilson made it a campaign issue.
But the phone calls mean trouble for both Domenici and Wilson. The liberal watchdog group Citizens for Responsibility and Ethics in Washington has filed complaints with the House and Senate ethics committees.
The two chambers write their own ethics rules, but both impose limits on how lawmakers can approach an executive-branch agency. Asking for status reports or urging prompt consideration of a matter is acceptable — but not, as the Senate Ethics Manual notes, when the agency is "engaged in an on-going enforcement, investigative, or other quasi-judicial proceeding."
When a Legal Line Is Crossed
The issues at stake in this case are not just ethical. The Senate manual also warns: "Courts also have set aside agency action when congressional intervention into an ongoing adjudication created the appearance of partiality." There are two major precedents.
In 1955, a Senate Judiciary subcommittee grilled the Federal Trade Commission on an antitrust case. A federal court ruled that the senators were so explicit in their questions that the hearing violated due process. The FTC had to drop the case.
And in 1979, then-Sen. Lowell Weicker (R-CT) pressured the Securities and Exchange Commission to investigate a company. A federal appeals court refused to quash an SEC subpoena in that case, but the court said it would have done so if the investigation had been prompted solely by political pressure.
Those legal standards mean that Wilson's and Domenici's phone calls could jeopardize any future indictments in the New Mexico case. Defense attorneys would argue that Domenici's and Wilson's phone calls violated due process.
Stanley Brand, a longtime practitioner of ethics law in Washington, says this is one reason that the Justice Department could end up naming a special prosecutor to examine all eight of the U.S. attorney firings — as Patrick Fitzgerald was named to investigate the Valerie Plame-Lewis Libby case.
Domenici just held a fundraiser for his 2008 re-election campaign. But now, at age 74, he could decide that the Iglesias controversy tips the balance against running again. Wilson, after squeaking through to re-election last fall, was seen by Republicans as Domenici's logical successor.
The biggest break for Domenici and Wilson may be that the Democrats don't have strong candidates ready to go.