Election Case Came Up in Judgeship Interview
Election Case Came Up in Judgeship Interview
Six U.S. attorneys — part of a group of eight who were fired in December — testified Tuesday on Capitol Hill about improper phone calls and threats they'd received from congressional staff members, members of Congress and Department of Justice officials.
John McKay of Seattle was one of the fired prosecutors. He told lawmakers that in 2004, he received a call from Rep. Doc Hastings' (R-WA) top assistant at the time, Ed Cassidy, regarding an investigation into the disputed election of Washington state's Democratic governor, Christine Gregoire. The election was extremely close and dogged by allegations of voter fraud. Cassidy is now on the staff of Minority Leader John Boehner (R-OH).
McKay discussed his testimony with Melissa Block. Their conversation is excerpted below:
Could you tell us about the phone call you got from Ed Cassidy, who was then the chief of staff for Rep. Hastings?
Mr. Cassidy called my office. When I was told he was on the line, I was, of course, immediately concerned to be taking a call from a congressman's chief of staff in the middle of this heated issue about the [gubernatorial] election in Washington state.... I knew that Congressman Hastings was involved in some of the public debate surrounding that. And of course, I was the chief federal prosecutor, and I wasn't involved in any debate. I was keeping very, very quiet, as was the FBI. So when the call came in, I was immediately alarmed.
What did Congressman Hastings' chief of staff ask you in that phone call?
Well, first he asked me a general question: What was going on? And I told him what was publicly released by my office: that we were requesting anyone with information to contact the FBI; that there were FBI agents assigned to this; that, in effect, it was a preliminary inquiry. And we had made those things public.
Then [Cassidy] went further, which was to begin to ask me about what actions the government might be taking in any inquiry – my office, and the FBI. And as he began to ask me those questions, I interrupted him. I essentially stopped him from that line of questioning, and I said something like, 'I'm quite sure that you are not about to ask me about the status of a federal investigation, or to influence me in a federal investigation, because you and I both know that would be wrong.'
And I think he took the hint, and ended the conversation very quickly.
Ed Cassidy has responded to this, and he says his call was just a routine effort to determine whether allegations of voter fraud were or were not being investigated – that, of course, he knew what the limits were on these conversations.
I agree with him in the sense that he did not get into illegal or unethical territory, because I stopped him.
After you were fired, you heard from another fired prosecutor, Bud Cummins, about a call he got from a Justice Department official, Mike Elston [the chief of staff to Deputy Attorney General Paul McNulty]. What was that phone call about?
Mr. Elston had made it clear that the department was unhappy with the statements of some of the fired U.S. attorneys that were in the media.... Mr. Elston was particularly upset by the idea that we would be cooperating with congressional investigators, or that we might testify before Congress.
Mr. Cummins related to us ... that the department would view that as an escalation of this conflict, and that they would respond accordingly. And what he said was that they were likely to have to release information about our own personnel files.
And I think the way he characterized it was that the Justice Department would pull their gloves off?
Right, and that we could expect to be trashed. So it was a threat.
Did you originally decline to testify because you felt intimidated?
Oh, not at all.... I had no desire to speak publicly. Our view was, if we were subpoenaed by the Congress... it would be our duty to answer those questions.
You are in the studio talking to me now, though.
I am here now because all of this information has... come out now. I think, given the gravity of some of the allegations, the public should know about them.
How do you interpret the fact that all eight of you were dismissed at the same time?
There's no question that this was unprecedented in the Justice Department. And I think the sad thing about that is that they have opened themselves to the kind of speculation and criticism that the attorney general writes about this morning in his op-ed [in USA Today]. And that is that people question whether they did it for political purposes. They question whether they did it to inhibit political-corruption prosecutions. And I think that's extremely unfortunate, because it undermines the confidence of the public in the United States Department of Justice.
Do you think that's the case, that it was done for political reasons?
I can't speculate on that. I think that the shifting statements by the Department of Justice need to stop immediately. They should acknowledge their true reasons, and get this over with. Because I don't want to believe that the Department of Justice would remove its federal prosecutors for doing their jobs.
U.S. Attorney Firings: An Ethical Line for Lawmakers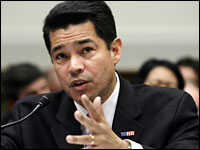 As Congress examines the Bush administration's ouster of eight U.S. attorneys, the hottest controversy comes from New Mexico. The former chief federal prosecutor there, David Iglesias, told a Senate panel Tuesday that Republican Pete Domenici, New Mexico's senior senator, called him at home 12 or 13 days before last November's election.
Political Pressure?
Iglesias said that Domenici brought up a high-profile corruption case and asked if more indictments were coming before November.
"I said I didn't think so," Iglesias told lawmakers investigating the firings. "To which he replied, 'I'm very sorry to hear that.' And then the line went dead."
Iglesias says he also heard from Republican Rep. Heather Wilson, who was then fighting for re-election against New Mexico Attorney General Patricia Madrid. The race turned out to be one of the closest in the nation last year. Iglesias said Wilson called him earlier in October and asked about sealed indictments. He said he felt political pressure in both calls.
Just what was the case that so concerned Domenici and Wilson?
It's about a long-running kickback scheme involving two former New Mexico state treasurers, Michael Montoya and Robert Vigil. They were indicted in 2005. Montoya quickly pleaded guilty to one count of extortion. Last September, Vigil was convicted on one count of attempted extortion, but was acquitted on some two dozen other charges.
Montoya and Vigil are Democrats. Republicans alleged that as attorney general, Madrid failed to dig out the corruption. Last fall, Wilson made it a campaign issue.
But the phone calls mean trouble for both Domenici and Wilson. The liberal watchdog group Citizens for Responsibility and Ethics in Washington has filed complaints with the House and Senate ethics committees.
The two chambers write their own ethics rules, but both impose limits on how lawmakers can approach an executive-branch agency. Asking for status reports or urging prompt consideration of a matter is acceptable — but not, as the Senate Ethics Manual notes, when the agency is "engaged in an on-going enforcement, investigative, or other quasi-judicial proceeding."
When a Legal Line Is Crossed
The issues at stake in this case are not just ethical. The Senate manual also warns: "Courts also have set aside agency action when congressional intervention into an ongoing adjudication created the appearance of partiality." There are two major precedents.
In 1955, a Senate Judiciary subcommittee grilled the Federal Trade Commission on an antitrust case. A federal court ruled that the senators were so explicit in their questions that the hearing violated due process. The FTC had to drop the case.
And in 1979, then-Sen. Lowell Weicker (R-CT) pressured the Securities and Exchange Commission to investigate a company. A federal appeals court refused to quash an SEC subpoena in that case, but the court said it would have done so if the investigation had been prompted solely by political pressure.
Those legal standards mean that Wilson's and Domenici's phone calls could jeopardize any future indictments in the New Mexico case. Defense attorneys would argue that Domenici's and Wilson's phone calls violated due process.
Stanley Brand, a longtime practitioner of ethics law in Washington, says this is one reason that the Justice Department could end up naming a special prosecutor to examine all eight of the U.S. attorney firings — as Patrick Fitzgerald was named to investigate the Valerie Plame-Lewis Libby case.
Domenici just held a fundraiser for his 2008 re-election campaign. But now, at age 74, he could decide that the Iglesias controversy tips the balance against running again. Wilson, after squeaking through to re-election last fall, was seen by Republicans as Domenici's logical successor.
The biggest break for Domenici and Wilson may be that the Democrats don't have strong candidates ready to go.