David Berry, Soldier's Medal Recipient, Killed in Iraq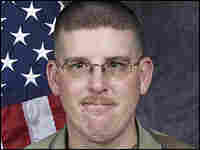 Last month in Iraq, insurgents killed a Kansas man who was quiet and heroic publicly, but also known as a life-long jokester.
Though National Guardsman David Berry was always reluctant to talk to strangers, he was plenty bold when it came time to rescue one. Four years ago, he pulled an unconscious man from a flaming pickup truck that was wrecked on a remote stretch of highway near Wichita.
Berry won the Soldier's Medal for saving the man's life. Berry's life was taken late one night last night near Bagdad.
Col. Joe Wheeler, Kansas National Guard chief of staff, says the blast that killed Berry critically wounded several other guardsmen, including Berry's life-long best friend.
Frank Morris reports from member station KCUR in Kansas City.