Sorting It All Out... with Brackets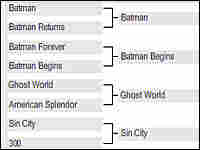 Start the Madness
March is here and sports fans turn their thoughts to 'bracketology' and the NCAA men's basketball tournament. Author Mark Reiter says the bracket system can also help in making important decisions and putting order to life's maddening questions.
Bracketologists have come to understand that the method used to reduce 64 contestants to a single winner applies to a lot more than basketball. Who's the best 18th century poet? The best ad slogan, the best animation character? Brackets can help decide.
Guests:
Tom Goldman, NPR's sports correspondent
Mark Reiter, author of The Enlightened Bracketologist: The Final Four of Everything
Stefan Fatsis, author of Word Freak: Heartbreak, Triumph, Genius, and Obsession in the World of Competitive Scrabble Players; regular contributor to All Things Considered
Excerpt: 'The Enlightened Bracketologist'
What is enlightenment?
Better question: What is Bracketology?
Bracketology is a way of seeing the world so that we can become more enlightened—
about what we like, favor, prefer, abhor, or abjure. (Bracketology can even help us determine if we prefer the word abhor to abjure.) It is a system that helps us make clearer and cleaner decisions about what is good, better, best in our world.
Let's bring it down to a real-world level.
Has this ever happened to you?
Someone asks you, "What's your favorite movie?" Not a deep question, but a probing one, something that comes up occasionally among reasonably curious folk—or men and women on their second date. Your favorite movie is a classic single-question personality profile that "reveals" you, an easy-to-apply litmus test that gives folks a snapshot of who you are or think you are or want the world to think you are. Whether that film is Die Hard or Four Weddings and a Funeral or Top Hat or Grand Illusion or Reservoir Dogs or Persona or Groundhog Day, your answer signals your worldliness and sophistication, your sense of humor, and, most particularly, your individuality. If you're like most people you have a default response that is either The Godfather, The Godfather Part II, Casablanca, Citizen Kane, Gone With the Wind, or The Wizard of Oz.
But have you ever methodically listed all the movies that have charmed you, or that you've seen more than a dozen times, or that you have on both VHS and DVD formats—and pitted them against each other in an intellectual knockout tournament to determine, once and for all, your definitive personal champion?
If you haven't, how can you say you truly know yourself? How can you honestly reveal yourself to the people you love? If you haven't systematically eliminated all the other worthy contenders for favorite movie, how can you blithely pick, say, My Cousin Vinny and hope to achieve enlightenment?
Bracketology—the practice of parsing people, places, and things into discrete one-on-one
matchups to determine which of the two is superior or preferable—works because it is simple. What could be simpler then breaking down a choice into either/or, black or white, this one or that one?
For example, not long ago I was discussing favorite foods with a friend of mine. She happens to be a successful dancer and choreographer, a woman of extraordinary physical discipline, intellectual rigor, and moral certitude. Being an athlete in perpetual training, she has always been careful about what she eats. So I asked her to name her last bite on earth—the one item of food she craves regardless of its impact on her waistline or cardiovascular health. It's one of those desert island questions that I find intriguing and revealing. Her answer: I was surprised—and I wasn't. It wouldn't be my first choice. But even her life of monklike asceticism, it was the perfect food. Simple, elegant, practically colorless, and loaded with protein. No excess. No spare parts (not even the yolk). A few months later, when the subject came up again, she surprised me by changing her mind. Her last bite on earth, she insisted, would be a bowl of popcorn. This change of heart was very uncharacteristic. I've always known her to be a woman who knows her mind. And yet here she was, on a matter involving the most basic issue of taste, flip-flopping.
It wouldn't have happened if she knew bracketology.
Purchase Featured Book
Buy Featured Book
Title

The Enlightened Bracketologist

Author

Mark Reiter,Richard Sandomir
Your purchase helps support NPR programming. How?