Angelique Kidjo: Staking Out New Ground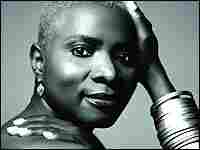 The title of Angelique Kidjo's latest album, Djin Djin, roughly translates to "seize the day" — an appropriate directive from the West African singer, whose career now spans 20 years. Kidjo fuses Afro-funk, salsa, reggae, gospel, jazz and more with shades of classic American rock, pop and soul: James Brown, Aretha Franklin, Jimi Hendrix, Carlos Santana and more.
Whether drawing on her musical roots or experimenting with hip-hop, dance and electronics, Kidjo's albums have featured fascinating collaborations, including work with Branford Marsalis, Cassandra Wilson, Dave Matthews and Santana. Djin Djin, produced by Tony Visconti (David Bowie, T-Rex), opens with a few would-be club hits before offering a haunting take on The Rolling Stones' "Gimme Shelter" — a reunion with Santana — as well as duets with Josh Groban and Sade and a song featuring Alicia Keys and Marsalis. Nothing if not ambitious, Kidjo continues to stake out new ground.
Related NPR Stories
Web Resources