Top U.S. Diplomat Stresses Reconnecting with Allies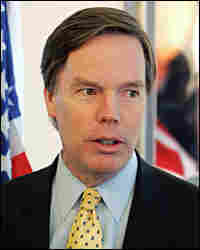 On his last day on the job at the State Department, Nicholas Burns reflects on the work that he has accomplished during his tenure and the beginning of the United States' return to multilateral diplomacy after a period of frayed relations with other countries.
As undersecretary of state for political affairs, Burns is the highest-ranking U.S. career diplomat. His career began when he was an intern in the U.S. Embassy in Mauritania.
After serving as State department spokesman and as ambassador to Belarus, to Greece and to NATO, Burns joined Secretary of State Condoleezza Rice's team at State. Now, Burns is retiring.
Burns says President George W. Bush's first term was unique in that the United States fought two wars during that period.
"When we came in in the second term, it was abundantly clear that we now had to rebuild alliances that had been weakened ... and we had to turn our attention back to our allies," Burns tells Robert Siegel.
"We've made a huge effort in trying to reconnect with our European allies, with our three principal Asian allies, and to rebuild some of those bridges with the Middle Eastern countries that ... had been shaken. So it's been a time of America realizing that our leadership in the world has to be leadership with others," he says.
In a globalized world, it's impossible to attack certain problems alone, Burns says.
Global climate change, terrorism, and trafficking in humans and drugs are among the most significant challenges in the 21st century, and confronting them successfully requires cooperative action, he says.
Iran also remains a key issue. First, the Iranian government is funding and arming the Middle East terrorist groups that the United States considers its adversaries, Burns says, among them Hamas in Gaza, Hezbollah in Lebanon and Syria, Shiite militants in Iraq and the Taliban in Afghanistan.
Second, Burns says there is "no question" that the government of President Mahmoud Ahmadinejad is trying to develop nuclear capability. And he says this is of concern not only to the United States, but to Russia, European countries and many Arab states.
Burn says this is the reason why the United Nations is on the verge of sanctioning Iran for a third time.
"Should Iran achieve a nuclear capability in the future, that would be a game changer in the balance of power in the Middle East and very negative for the United States, for the moderate Palestinians, for Lebanon and certainly for Israel."
But Burns stresses the need for the United States to consider how it's perceived by other countries.
As "the most significant power in the world," Burns believes the U.S. needs to "show respect and interest" and "meet people halfway."
Nowhere is that responsibility bigger than in the Middle East.
"Until that basic problem is resolved — a Palestinian state living side by side with a secure Israel — then the greater problems are not going to be resolved," Burns says.
For most of the 20th century, the United States considered Europe the focal point of its foreign policy because that's where the dangers were in World Wars I and II and the Cold War.
"It's very clear that in our time, it's the Middle East which is the region of the world that presents the greatest challenges and where the most significant dangers lie for us," Burns says.
"Therefore, we have to be the intermediary for peace, and that's what Secretary of State Condoleezza Rice is trying to do."