Extreme Skiers Take Risky Runs in Documentary
Extreme Skiers Take Risky Runs in Documentary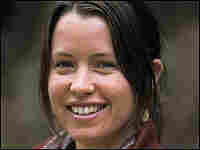 Skiers have reason to rejoice this winter: a lot of snow on the mountains — the largest cover in at least 20 years. For those who live for the thrill of a steep run on good powder, it is heaven.
Armchair ski enthusiasts can experience that thrill in a movie theater now. Steep, a film about the history of extreme skiing, features the sport's most serious devotees — like Glen Plake: "As soon as I got out of jail, I went skiing. Soon as I got out of broken legs, I went skiing, that's where I had to go to make it all right again."
Plake also was featured in the 1988 ski movie Blizzard of Ahhs, which inspired a new generation of skiers — like Ingrid Backstrom, who is profiled in Steep.
Backstrom is one of the world's best extreme skiers, and, as they say in the movie, "she rips." "Freeskiiers," as they're known, race down steep mountains that can only be reached by hiking or by helicopter. Backstrom has taken home several first-place titles in freeskiing competitions in recent years.
Liane Hansen talks with Backstrom, who is on location in Haines, Alaska, and Scott Gaffney, the creative director for Matchstick Productions — and the man who discovered Backstrom.
'Steep' Reveals Extreme Skiers' Dangerous Feats
'Steep' Reveals Extreme Skiers' Dangerous Feats
The documentary Steep profiles the history and lives of "extreme skiers." The film induces vertigo with its helicopter shots of skiers charging down sheer cliffs, far from any ski resorts with trails or lodges.
These extreme athletes can set off avalanches as they race down mountains at speeds up to 60 mph. They defy death, but don't always escape it: One of the skiers featured in Steep died just days after he was interviewed for the film.
The director and screenwriter, Mark Obenhaus, talks with Jacki Lyden about what sets extreme skiing apart from what even the most proficient Olympic skiers do.