Mark Shields Looks to Tuesday's Primaries
Political commentator Mark Shields speaks with Scott Simon about the upcoming Democratic primaries in Texas and Ohio.
SCOTT SIMON, Host:
Mark, thanks for being with us.
MARK SHIELDS: Great to be with you, Scott.
SIMON: First, David Greene's piece. What do you think of the complaint of the Clinton team? Has Senator Obama received what amounts to preferential coverage?
SHIELDS: Part of it on the Clinton campaign is understandable. It's the - it's a basketball coach berating the referee for a call, you know, hoping to get the next call. In other words, to put the referee, in this case, the press, on notice that you're being watched and you're being scrutinized.
SIMON: Unidentified Man: It's 3:00 A.M. and your children as safe and asleep. But there's a phone in the White House, and it's ringing. Something's happening in the world, your vote will decide who answers that call, whether it's someone who already knows the world's leaders, knows the military, someone tested and ready to lead in a dangerous world...
(SOUNDBITE OF CLINTON CAMPAIGN AD)
SIMON: And hold on Mark, because here's the Obama campaign in response.
(SOUNDBITE OF OBAMA CAMPAIGN AD)
SIMON: When that call gets answered, shouldn't the president be the one, the only one, who had judgment and courage to oppose the Iraq war from the start, who understood the real threat to America was al-Qaida in Afghanistan, not Iraq, who led the effort to secure loose nuclear weapons around the globe. In a dangerous world, it's judgment that matters.
SIMON: Mark, what's your feeling for how effective these ads or ads like them are?
SHIELDS: Well, it's not the first time. I mean when you've been around this as long as I have having covered Woodrow Wilson's reelection campaign, you do recall...
SIMON: The ads used to - pony express riders used to shout the ads back and forth, yeah.
SHIELDS: And that was emphasized when Jay Rockefeller, the chairman of the Senate Intelligence Committee endorsed him this week and he said that Obama was - that he was - the undisputable fact was that Obama was right about Iraq when many of us, including Rockefeller were wrong.
SIMON: And did he...
SHIELDS: And so I think that's the rebuttal they've chosen and apparently it's - at least it's working so far.
SIMON: In the 15 seconds we have left, economy or foreign policy going to be the trump card as we get into Ohio and Texas?
SHIELDS: The economy.
SIMON: Oh, okay.
SHIELDS: Yeah.
SIMON: We can take it in less than the 15 seconds. Mark, as...
SHIELDS: At NAFTA, NAFTA, NAFTA here in Ohio.
SIMON: Okay. Opposition to NAFTA, NAFTA, NAFTA?
SHIELDS: Opposition to NAF - yeah. Nobody is trumpeting his original sponsorship of NAFTA.
SIMON: Okay. Thanks very much, always a pleasure.
SHIELDS: Good to be with you, Scott.
SIMON: And you're listening to WEEKEND EDITION. This is NPR News.
NPR transcripts are created on a rush deadline by Verb8tm, Inc., an NPR contractor, and produced using a proprietary transcription process developed with NPR. This text may not be in its final form and may be updated or revised in the future. Accuracy and availability may vary. The authoritative record of NPR's programming is the audio record.
What's at Stake in the March 4 Primaries?
Jeff Swensen/Getty Images
Read a State-by-State Analysis of March 4 Primaries: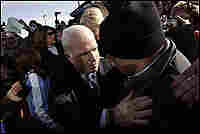 The Democratic primaries in Texas, Ohio, Rhode Island and Vermont on March 4 are seen as make-or-break for the presidential campaign of New York Sen. Hillary Clinton.
Clinton needs to triumph in the delegate-rich states of Texas and Ohio to halt the momentum of Illinois Sen. Barack Obama, who has won 11 consecutive nominating contests since Super Tuesday (including the Virgin Islands and the Democrats Abroad Global Primary). Even her husband, former President Bill Clinton, has said that Texas and Ohio are must-win states if she is going to have a chance at taking the nomination.
For Obama, a successful March 4 could help nudge him toward the nomination and solidify the growing perception that he is the party's front-runner. He will still have to court the roughly 800 Democratic superdelegates, who act as free agents and who can vote for either candidate, regardless of their state's popular vote. (Both Obama and Clinton have been wooing the superdelegates relentlessly.)
The two candidates have been campaigning heavily in Texas (193 delegates) and Ohio (141), focusing especially on those states' respective Hispanic and working-class voters through rallies and advertisements.
On the Republican side, Arizona Sen. John McCain has swept recent primaries in Virginia, Maryland, the District of Columbia and Wisconsin, and now delivers speeches with the confidence of a man who is certain to be his party's nominee.
But a recent New York Times article proved to be a major distraction. The article outlined McCain's allegedly close relationship with a female lobbyist, with hints of a friendship that went beyond the professional. (Some commentators make the argument that for someone who stakes his reputation on his honesty and "straight talk," the article has the potential to prove damaging. Others say the story could ultimately help McCain with more conservative Republicans by making the argument that it was an effort by the liberal media to hurt the Arizona senator's prospects.)
Former Arkansas Gov. Mike Huckabee remains a candidate, though since Super Tuesday, when he did well in the South, he has won in just two states, Louisiana and Kansas. (Congressman Ron Paul of Texas, who has not won anywhere, is staying in the race as well, though he faces a challenge back home for his House seat in the March 4 primary.) Huckabee has said he will continue as a candidate until he or McCain has the 1,191 delegates needed to officially capture the nomination.
The Candidates
The Democrats: New York Sen. Hillary Clinton; Illinois Sen. Barack Obama
The Republicans: Former Arkansas Gov. Mike Huckabee; Arizona Sen. John McCain; Texas Rep. Ron Paul
The Democrats: Clinton is hoping that her strong ties to Texas will give her a boost. She worked in the Rio Grande Valley 35 years ago, registering voters — a fact she often mentions on local campaign stops. Texans also did well under the Bill Clinton White House, earning posts in the Treasury, Energy and Interior departments, along with two ambassadorships.
But Obama is on a roll. The night of Feb. 19, when he was declaring victory in the Wisconsin primary, he did so from Houston — signifying the importance he places on the state. Texas has an odd dual primary/caucus system, and Obama has done very well in states that hold caucuses; in fact, with the exception of Nevada, he has swept every caucus state.
New Texas polls show the two candidates locked in a dead heat.
Texas Democrats must vote in their senatorial districts by ballot, and then also attend a caucus immediately after the polls close. One hundred and twenty-six delegates will be awarded based on the primary, while 42 Democratic delegates will come from the caucus.
The Republicans: Arizona Sen. John McCain has been popular with Hispanics since he co-authored the ultimately unsuccessful immigration bill that would have created a path to citizenship for millions of undocumented immigrants. Huckabee, whose record also shows a more moderate viewpoint on immigration than some others in the party would prefer, has been campaigning in Houston and San Antonio.
Hispanics are the key demographic to court in Texas and could make up as much as 40 percent of the total electorate. The candidates have been running Spanish-language ads; the Feb. 21 Democratic debate in Austin was co-sponsored by the Spanish television network Univision.
Another key demographic: African-American voters, expected to be 25 percent of the primary electorate.
---
Ohio's sluggish economy is the key issue in the upcoming primary; unemployment in the Buckeye State is greater than in any state in the region other than Michigan. Candidates of both parties have talked about their plans to create jobs and stimulate the economy. Hundreds of thousands of Ohio's manufacturing jobs have left the area. The state has also been hit hard by high unemployment and home-foreclosure rates.
The Democrats: A recent poll seems to suggest that Obama's support in the Buckeye State is increasing, though Clinton appears to be holding a lead, however tenuous. Two Ohio labor unions, with a combined membership of about a 100,000, switched their backing from former North Carolina Sen. John Edwards to Obama. The Illinois senator also has received the national backing of the International Brotherhood of Teamsters, which represents more than 1 million truck drivers and warehouse workers. Obama's plans for affordable health care, as well as tax credits for low- and middle-income workers and seniors, could appeal to the state's working class.
Clinton has also campaigned in Ohio, most recently in Youngstown and Columbus. She is hoping to appeal to women and working-class voters, who have made up her base in past primaries. Her health care plan calls for universal coverage, and she has proposed a $70 billion economic stimulus plan that includes a moratorium on foreclosures and an assistance fund for at-risk borrowers. Clinton has started running ads that appeal to blue-collar workers. Her latest Ohio ad begins with the phrase: "You pour coffee, fix hair. You work the night shift at the local hospital. You're often overworked, underpaid, and sometimes overlooked...She understands."
Ohio is not used to playing a decisive role in the nominating process. The last time that happened was in 1976, when Jimmy Carter's victory in the June primary state effectively awarded him the Democratic presidential nomination.
---
The Democrats: The Clinton name holds much weight in Rhode Island, a state that Hillary Clinton often visited with her husband when he was president. She also has helped fundraise for several state politicians who double as superdelegates, including U.S. Sen. Sheldon Whitehouse and Providence Mayor David Cicciline.
But as Obama keeps building momentum in his campaign, the question becomes: Will he make inroads into Clinton's base? Michelle Obama spent an afternoon campaigning in Rhode Island, where her brother is a basketball coach at Brown University. Providence is a college town, and its university-age voters are overwhelmingly supporting Obama.
The Republicans: McCain visited Rhode Island in mid-February to try to appeal to New England's more moderate Republicans. He won Rhode Island's 2000 presidential primary with 60 percent of the vote.
---
The candidates have not made Vermont a major priority in this March 4 contest: It offers just 15 Democratic delegates and 19 GOP delegates.
The Democrats: None of the candidates have campaigned in the state so far. According to the Center for Responsive Politics, Vermont Democrats have far surpassed the state's Republicans in fundraising for this election cycle, with $1.4 million going to Democratic candidates and $322,000 to Republicans.
University of Vermont political scientist Garrison Nelson predicts that Obama will do well in the state, since Vermont has a history of supporting maverick candidates, such as Howard Dean in 2000. (Vermont also has a senator who is an independent.)
The Republicans: McCain recently made a quick campaign stop. Huckabee is not expected to do well and is not targeting the state.
Vermont has an open primary, meaning residents can cross party lines to vote for the candidate of their choice.