Youthful Sensations in Cincinnati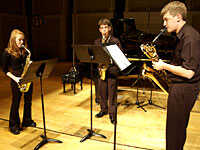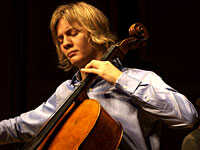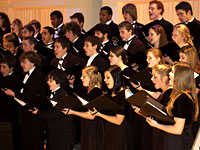 From Music Hall in Cincinnati, Ohio, From the Top's extraordinary young musicians include a 10-year-old pianist with a set of knuckle-busting Paganini variations, the 60-voice Cincinnati May Festival Youth Chorus singing Virgil Thomson, and a skate-boarding, harmonica-playing cellist with a reverent piece by Ernest Bloch.
When 14-year-old Sophie Pariot was little, her parents took her to hear violinists Midori and Gil Shaham.
"The concerts triggered something in me," she remembers. "They gave me a passion for the violin."
Pariot started Suzuki lessons when she was six and now, at age 14, she's in the pre-college program at the Juilliard School in New York.
"I just love Juilliard," says Pariot. "I love the way everyone practices and gives everyone else ambition to achieve their goals." She plays "La Gitana" by Fritz Kreisler
The teenaged members of the saxophone trio Fresh Winds—Morgan Ferris, Tom Turner, and Thomas Kraynak—have been playing together for some time now, but not primarily as saxophonists.
"Morgan and I mostly play clarinet and Tom plays bassoon," explains Kraynak, who is also a serious pianist. "We all play sax in our jazz band at school, but it's not something that takes up a lot of our free practice time," Turner adds.
The trio members are also regulars in the Cincinnati Symphony Youth Orchestra, where they all sit in the back row, where the conductor can't see them. "We can get a little rowdy at times," explains Kraynak.
Apropos of its humorous nature, the group performs a piece called "The Lone Ar-ranger Goes Sax Mad!" by Philip R. Buttall.
Kevin Bao is only 10, but he's already won piano competitions. Bao says he tries to focus on the sage advice given to him by his teacher.
"Playing piano requires a warm heart and a cool brain," he says. "When you have a warm heart you play expressively, but the cool brain keeps you focusing on your technical skills."
Bao plays Variations on Theme of Paganini, by Isak Berkovich.
A few years back 17-year-old Christoph Sassmannshaus had to come to terms with almost every cellist's nightmare—arm surgery.
He had to put down his cello for a year, but that didn't stop him from playing music.
He discovered the blues, and learned how to play the music on the harmonica. He bought several of the instruments, which he found to be quite handy and easy to take along on his many skateboarding expeditions.
After recovery, Sassmannshaus began playing his cello for kids with special needs.
"It's such a special feeling to come into the class and have one of the kids who was not very social at the beginning of the year grab your hand and want to sit next to you," Sassmannshaus explains, "being able to bring live music into that setting was really special to me."
Christoph Sassmanshaus plays "Prayer" by Ernest Bloch.
The 60-voice strong Cincinnati May Festival Youth Chorus, directed by James Bagwell, and now in its 20th season, continues to motivate its young choristers.
For Kara Cover, joining the Cincinnati May Festival Chorus was a wonderful turning point in her music life.
"Before joining the chorus I thought classical music was boring," she says, "but I remember how it hit me at the first rehearsal when these talented people began singing. I was like, 'Oh... my... gosh. This is incredible!' The chorus has been one of the most amazing things I've ever been a part of."
Chorister Alex Muetzel, who aspires to be an opera singer one day, feels the same.
"My first day in the choir we sang an early music piece, and I was so blown away at the level of singing of the group that it made me want to work hard and achieve the level that the other members had been able to obtain," he recalls.
The chorus sings "Follow Your Saint" and "Follow Thy Fair Sun" by Virgil Thomson, and the spiritual "Saints Bound for Heaven."
This show originally aired April 18, 2007.