Drop in N.Y. Prisoners Bucks Nationwide Trend
Drop in N.Y. Prisoners Bucks Nationwide Trend
This is the first of a two-part report.
Hear Part 2 of This Report
General Photographic Agency/Hulton Archive/Getty Images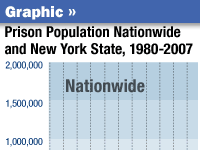 Alice Kreit, NPR/Source: The Pew Charitable Trusts
Why the Drop in New York's Prison Population?
The state's Department of Correctional Services (DOCS) attributes the declining numbers to a reduction in crime, as well as implementation of early-release programs for nonviolent offenders and reform of the state's stiff Rockefeller drug laws.
In 2004 the state began allowing some drug offenders to earn time off their sentences for good behavior. According to DOCS, from 1995 through 2007, the reforms helped to release more than 87,000 inmates early. In addition, average time served for drug crimes dropped.
According to DOCS, drug offenders made up 35 percent of the prison population in 1994 and only 21 percent in 2007.
The drop in inmates has led Gov. Eliot Spitzer to propose closing four prisons. Read a DOCS fact sheet on the prison closures.
As prison populations boom across the United States, there is a notable exception: New York State has seen its number of prisoners drop each year since 1999. The empty jail beds have even led to a push from New York's governor to close four prisons.
New York has always shaped the nation's conception of what it's like to be in prison.
In the 1930s and 1940s, it was through movies set at Sing Sing on the Hudson River. But in the 1960s and 1970s, New York became emblematic of the problems facing the prison system, with famously overcrowded conditions and the prison riot at Attica.
"New York has a long storied history — Sing Sing and Attica and overcrowding. And right now it's a very different place than it used to be. We have the fastest-declining prison system in the country," says Michael Jacobson, who directs the Vera Institute, a criminal justice think tank.
Mostly, Jacobson says, prison populations have declined because of the remarkable drop in serious crime rates in New York City.
"New York City used to send 20,000 a year to state prison. It slowly started to decline [to] 7,000 to 8,000 people a year," Jacobson says.
The type of criminal sent up the river is also shifting. Violent offenders now make up the largest share by far in the prison system. Meanwhile, nonviolent criminals are seeing shorter sentences.
In the 1960s and 1970s, New York was famous for its long mandatory sentences and tough drug penalties. But a few years ago the state relaxed some of its Rockefeller-era drug laws. And it continued to push alternatives to prison.
Shock Incarceration
In the mountains above Summit, N.Y., the prison system runs a boot camp facility known as Shock Incarceration. These guys are doing precision military drills in six-degree weather.
The program is for young, nonviolent offenders who chose to do six months of hard labor and job training in exchange for getting out of prison early.
"We wake up at 5:30 in the morning and get out of the racks. Physical training for an hour. Get dressed. Get chow and we're off to a hard work day," says David Gonzales, who's in for dealing drugs. He'll serve only about half of his sentence. Damien Kent, 22, may do only a quarter of his time for robbery.
"Here, I finished my GED, which I wouldn't have even have tried doing in a regular prison. I would have just not cared. But here I've changed a lot," Kent says.
By shortening the sentences, the prison system keeps the overall prison population down. And Cheryl Clark, the director of the program, says that there's no downside. The graduates of the Shock program have a lower recidivism rate than regular prisoners, and it doesn't cost as much.
"They're working hard because they have to earn their early release. In terms of cost of care and bed days, it saves money for your pocketbook," Clark says.
It's hard to know if New York's prison population — like its crime rate — can go any lower.
But Jacobson says that New York demonstrates an important lesson: Locking up criminals for a long time isn't the only way to keep the streets safe.
"If you can drive down crime and put fewer people in prison, why wouldn't you do that?" Jacobson asks.
The only people who are complaining are some residents of New York's rural, northern counties. Prisons are a big part of the local economy there and fewer inmates could translate into job cuts.