Puppy-Toss Video Ignites the Web
Puppy-Toss Video Ignites the Web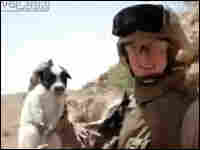 The Internet is ablaze with a controversial video that seems to show a U.S. Marine in Iraq throwing a puppy off a cliff. Pausing before she passes judgment on the veracity of the clip, Virginia Heffernan of The New York Times wonders why it's animal suffering that goes viral and not footage of the human toll in war.
The puppy video began appearing on blogs Sunday afternoon. An early headline read, "U.S. Soldiers Throw Puppy Off Cliff: Sick." In the video, a man off-camera says, "So cute, so cute, little puppy." Then the soldier holding a small dog tosses it over a sandy cliff. The animal whines as it falls. "That's mean," the off-camera voice says. Commenters and bloggers expressed sadness and outrage. Gawker, a media and gossip blog known for graphic content, posted the video and soon took it down, with apologies. And YouTube yanked the video after it registered 150,000 views, citing terms of service. Even so, the video endures, popping up on various sites.
But is the scene it depicts real? And what does it mean that footage of such an act — real or not — has become part of the national and international conversation, raising as many questions about the war in Iraq as it does questions about the soldiers who fight there, animal cruelty and the problems of watching video on the Web?
Heffernan says she's wary of heightened reaction to the video. She compares the outrage to reactions elicited by actual war footage of violence toward humans.
"That doesn't go viral," she says. "The one that seems to show footage of a dog is the one we're all talking about."
Heffernan explains her unique position as a newspaper writer. "A video surfaces," she explains. "We don't know the provenance." Reports can research the metadata and sleuth out the kind of camera used, but there's nothing to say this isn't a prank. "We don't have any way to verify that this is entirely staged," she says. "It could be animation."
It would be good to take a breath, she advises before deciding the scene in the video is news. But the Internet rarely allows time for contemplation. As Heffernan herself acknowledges, "Response videos have been going up even in the last hour."