Bush Endorses McCain's Candidacy for President
President Bush has endorsed the Republican nominee-in-waiting, John McCain. The president made the announcement with McCain in the White House Rose Garden following a lunch meeting between the two men. McCain says he looks forward to campaigning in the general election with President Bush at his side, and he says the president could be helpful in states such as Texas.
Bush Endorses McCain in White House Meeting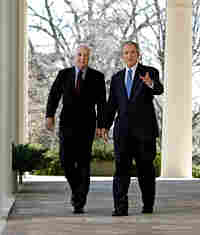 President Bush has endorsed Arizona Sen. John McCain for the Republican presidential nomination, after a White House meeting Wednesday.
The president called McCain "a man of character and courage" who had "a big heart."
"He's a president, and he's going to be the president who will bring determination to defeat an enemy, and a heart big enough to love those who hurt," Bush said.
In recent weeks, Bush has gone out of his way to defend the senator's conservative credentials, saying that big-name conservative attacks on McCain have been grossly unfair.
McCain said he was "honored and humbled to have the opportunity" to receive the president's endorsement.
Once McCain's bitter primary rival, Bush gave his stamp of approval to a GOP maverick who has crossed swords with him on things like campaign finance, tax cuts and waterboarding.
McCain won all four primaries Tuesday, sweeping Ohio, Rhode Island, Texas and Vermont and forcing former Arkansas Gov. Mike Huckabee out of the race. The wins gave McCain more than the 1,191 delegates needed to win the Republican nomination.
Speaking to supporters in Dallas, McCain, 71, said that he will now begin "the most important part" of his campaign:
"To make a respectful, determined, and convincing case to the American people that our campaign and my election as president, given the alternatives presented by our friends in the other party, are in the best interests of the country we love," McCain said.
The Republican candidate's time with President Bush also included a welcome at the White House North Portico, followed by lunch in Bush's private dining room and a formal endorsement in the Rose Garden.
From NPR reports and the Associated Press.