Airborne Settles Suit over False Claims
Airborne Settles Suit over False Claims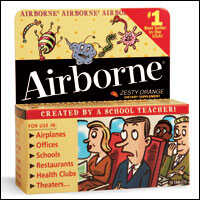 Makers of the herbal supplement Airborne have agreed to pay $23.3 million in a class-action lawsuit over false advertising. David Schardt, a senior nutritionist with the Center for Science in the Public Interest, says it's just one battle in his efforts to prevent companies from making misleading claims.
The spread of Airborne has been something of a national phenomenon, with hopeful consumers reaching for the product that said, "It's the one designed by a school teacher."
But it's also the one, Schardt says, that's been misleading consumers for 10 years. First, he says, Airbone entered the market claiming that its formula — a result of research by second-grade teacher Victoria Knight-McDowell — could ward off colds. Airborne later backed off, reworking its campaign to say the supplement "boosts your immune system."
The problem, Schardt says, is that Airborne didn't have a single shred of evidence to back up either claim. And that's why Schardt was so passionate about leading a class-action lawsuit against the company.
In a recent ruling, science won — but only to a degree, Schardt says. Airborne is admitting no missteps but has agreed to refund the purchase price to people who can show they purchased the tablets. "Defendants deny any wrongdoing or illegal conduct but have agreed to settle the litigation," reads a website set up to give information about the suit.
Consumers are still likely to be misled by the product, Schardt says. He and his teams searched for anyone who had studied Airborne's combination of herbs and vitamins. The company had pointed to one research effort, but that was later revealed to be a two-person project paid for by Airborne. "It was so bad," Schardt says. "The company wouldn't let anyone see it."
Schardt hopes the lessons of Airborne will discourage companies from making claims "until they have evidence that the product works."
What about the many people who swear by Airborne? Anecdotal evidence isn't enough, Schardt says. He says drugs need to offer better results than the placebo effect, where on average one out of three people will say a sugar pill helped them.
Take Vitamin C if you want to boost your immune system, Schardt says. That supplement has been examined extensively, in over 30 studies, with thousands of people all over the world. And the value of the perennial cold treatment? "It doesn't work," Schardt says.
Got a story about your own experience with Airborne? Let us know here.