The Power Suit Makes the Woman
The Power Suit Makes the Woman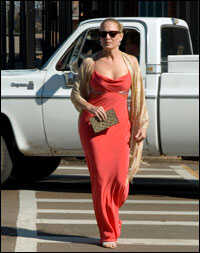 What was going through Secretary of State Condoleezza Rice's mind the morning in 2005 she decided to wear tall stiletto boots and a military-style tunic to meetings with officials in Germany? Tiffany Ludwig and Renee Piechocki bring us closer to the answer. Their new book, Trappings: Stories of Women, Power and Clothing is a study of women and their clothing choices. It's the result of asking nearly 600 women in 15 states one simple question: "What do you wear that makes you feel powerful?"
The pair started working on the project in 2001, when they decided to take a serious look at the state of feminism. But how to talk about a "hot-button topic" like feminism, Ludwig says, without devolving into black and white generalities? "Clothing," she says, "is an entry into a power-charged conversation." After all, everyone has to get dressed in the morning, Ludwig says. For the book, interview sessions were modeled after classic Tupperware parties. "It's not a secret confession," Tiffany says.
Ludwig and Piechocki say that a surprising number of women were immediately revealing, even though in 90 percent of the interview sessions, they were talking to people they'd never met. One memorable response was a "yes dress," a slinky number that got a businesswoman the answers she wanted. But Ludwig and Piechocki also heard from women that their power item was a lab coat, a head wrap or a tattoo.
What about the questioners? "We politely declined to answer," Piechocki says. If we did, she says, our response would cloud the question. "Our role is as a connector and platform provider," she says. "It's not about us."
Watch an audio slideshow, with images from the new book, on the BPP blog.