'America's Toughest Sheriff' Takes on Immigration
'America's Toughest Sheriff' Takes on Immigration
This is the first of a three-part report.
More in This Series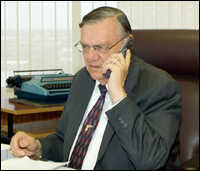 Inmates at "Tent City" in South Phoenix, Ariz., generally wear pink underwear. This is not by choice, but rather a humiliating uniform requirement courtesy of Sheriff Joe Arpaio, aka "America's Toughest Sheriff."
The undergarments are only one of Arpaio's many innovative jail policies. Broiling summer heat or chilly desert winter, all 2,000 inmates live outside, sleeping on cots in old canvas tents. For food, the sheriff serves inmates green — as in fetid — baloney sandwiches.
Arpaio's extreme tactics — many of which specifically target illegal immigrants — have kept him in the news pretty much since he took office back in 1993.
"Everything I do is publicized. When I go to the toilet it's publicized," he says. Of course, not everyone likes his approach. "These demonstrators have placards. I'm a Nazi, KKK. But you know what? The more they go after me, the more I'm in their face."
What the sheriff doesn't say is that he often seeks publicity — even calling a parking lot news conference recently to announce a future crime suppression operation.
"I want everyone to know about this," he says. "Maybe they wouldn't be violating the laws if they knew we were going to catch them."
His real target, however, is laid out in the headline of his latest press release: "Illegal immigrants' arrest expected." For months Phoenix has been the site of protest over day laborers — often illegal immigrants — who line the streets looking for work.
"If we come across any illegal aliens during the course of this operation they'll be arrested and put in jail," he says.
Stretching the Law
Arpaio finds creative ways to arrest illegal immigrants — using state law intended on human smuggling to charge them with smuggling themselves — something no one else in the state has attempted.
Arpaio another unusual tactic. Though the Phoenix Police Department has a policy of not asking citizenship on arrest, down at the county jail, which houses prisoners from a number of jurisdictions, it's a different matter. Every single person who is booked — regardless of the change — is asked their citizenship and social security number. Officials then look them up in the federal Immigration and Customs Enforcement, or ICE, database.
Since last May 7,000 illegal immigrants have been detained this way according to Amy Coon, one of 160 Maricopa County sheriff's deputies trained to enforce federal immigration law.
According to the agreement with ICE, prisoners are only supposed to be held on immigration charges if they were arrested for something else first. On the night of this reporter's visit, however, at least one illegal immigrant is arrested for simply being a passenger in a car that was stopped.
Arpaio justifies his practices. "We put the holds on them so they won't be released back to the streets. We do that since the cops will not do it," he says, in a backhanded dig at the more immigrant-friendly Phoenix Police Department.
Catering to Voters
The sheriff wasn't always so gung-ho about arresting illegal immigrants, says Michael Lacey, executive editor of Phoenix New Times, an alternative weekly paper.
"He's got a very famous quote about how he wasn't gonna be busting corn vendors or Mexicans on the street looking for work. That there were real criminals out there," he says. "But he discovered there were votes in going after Mexicans and he switched his policy 180 degrees."
New Times may be the only local media outlet Arpaio won't talk to.
"Is that a porno magazine?" says Arpaio, feigning ignorance upon reference of the publication's name. "You're talking about the weekly paper they have to give away free?"
Arpaio has reason to "forget" about New Times. It has relentlessly attacked his policies for years, pointing out millions of dollars the county has paid to former inmates or their families over mistreatment charges. Lacey and his co-publisher were arrested last year after publishing the sheriff's home address for a story on his real-estate deals. The sheriff also ordered the paper to hand over the e-mail addresses of everyone who visited the paper's Web site. The order and the charges were eventually dropped and Lacey and New Times are now suing the sheriff and the county attorney.
"What made them think they could get away with it is they've been gradually getting away with it for years here," Lacey says. "You begin with prisoners. Then you move on to Mexicans. Then you move on to editors and reporters."
Arpaio's opponents say the sheriff is out of control.
"The sheriff is a sad clown," says civil rights activist and former Democratic state legislator Alfredo Guttierez, "but unfortunately he's a sad clown with horrible power."
Support for 'Sheriff Joe'
Listen to one of the speeches the 75-year-old frequently gives, weaving his personal story with the issues, and one can see why he keeps getting re-elected.
"Born and raised in Springfield, Mass., my mother and father came from Italy legally," he says to a crowd at Leisure World, a retirement community in conservative Mesa. The audience applauds.
"We don't train the officers to speak Spanish to talk to them. They're in the United States of America in my jails so they're gonna learn English." More applause.
"I think he's wonderful. He's tough and puts those kids in jail," says Betty Wilson. "I think he's down to earth and doing what he needs to do," agrees Donna Kurr, also a Leisure World resident.
Arpaio's approval ratings have been falling a bit, down from an astronomical 80 percent to somewhere in the '60s. But most analysts think he will probably be elected for the fifth time in November.