Commenter: Obama Rolling Toward Mississippi
Commenter: Obama Rolling Toward Mississippi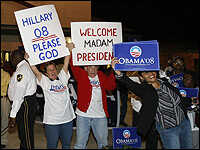 Robyn Beck/AFP/Getty Images
In the wake of Wyoming's Saturday caucus — in which Sen. Barack Obama snagged seven of 12 delegates — and just before Mississippi's contest, Politico.com executive editor Jim VandeHei takes the pulse of the Democratic presidential primary and reveals his vote for the biggest news story of the week.
This weekend, Obama's double-digit win over Sen. Hillary Clinton netted him delegates and another state for his victory column. Which is more important? At the end of the day, VandeHei says, Obama is beginning to focus purely on the delegate count.
"It's inconceivable the party will deny him the nomination if he has more delegates," VandeHei says. This will hold true, he says, "regardless of what Hillary says about swing states."
But if the Clinton campaign has its way, two of those swing states will come back into play: Florida and Michigan. The Democratic Party stripped those states of their delegates as punishment for holding primaries too early. Now the Clinton team wants to find a way to have those states vote again. VandeHei says he believes the Clinton team will come up with a plan for that to happen. But he says the contests would be expensive and state leaders won't let their taxpayers pick up the burden.
The states could conduct a cheaper vote by mail, but VandeHei wouldn't be surprised if a wealthy donor outside the party leadership stepped up to foot the bill for opening the polling places. Clinton might also raise the money herself, VandeHei says. "Without those two states, she has no chance," he says.
Meanwhile, a chief Obama adviser, Samantha Power, has stepped down after calling Clinton a "monster" in a press interview. VandeHei was initially surprised Obama wouldn't stand by one of his closest advisers. "He's relied on her immensely," he says.
But VandeHei says the Obama campaign knows how the game goes.
"You can't play politics with kid gloves," he says. "There's a fine line between really trying to change the tone of politics and not fighting in the arena. Clinton would love to rip off the gloves and go bare-knuckled."
For all the talk of the gloves coming off, what are the hopes for a unity ticket? Bill Clinton, speaking in Mississippi this weekend, reinforced Sen. Clinton's interest in running with Obama.
"It's really brilliant politics on the Clintons' behalf," VandeHei says. If she wins, she'll have to take Obama as vice president. "But Barack would never want her," he says. "He wants to take a break from D.C. politics. It really boxes him in."
With all eyes on the presidential race, however, VandeHei says the biggest political story of the last two weeks has been a Democratic takeover of the seat formerly held by Republican Rep. Dennis Hastert of Illinois. Democrat Bill Foster will now take his place, winning by six points.
"It shows once again that especially at the ground level, Republicans have a big, big problem," VandeHei says. "It's clear the generic voter really does favor Democrats."