Teenagers Ring Out the Classics in Rochester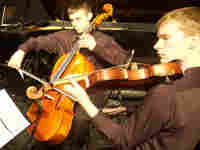 From the Nazareth College Arts Center in Rochester, New York eight seriously musical teens tackle double reeds, voice, and all manner of strings – plucked, bowed, and hammered – in performances of music from the 18th to 21st century.
Not only is 17-year-old Kimani Griffin an exceptionally talented classical guitarist, but he is also a champion speed skater. He competes on the national level and recently received an endowment from the U.S. Olympic Committee to continue his training in Utah.
In addition to pushing himself physically, Griffin has faced some profound emotional challenges. When he was 11 years old, one of his close friends, a fellow skater, was killed in a car accident.
"It was a turning point in my life and a big part of what's kept me driven," says Griffin. "Whenever I skate I think of him." Playing the guitar also helped Griffin move through that difficult period.
"On the outside, I'm not a very emotional person, but when I play guitar I let my feelings out," he says. Kimani began playing the instrument when he was six years old, and he brings the same intensity to his guitar playing that he does to his skating. He plays two movements from Aquarelle, by Sergio Assad.
Seventeen-year-old Zoë Hilbert originally wanted to play the clarinet, but her music teacher encouraged her to try oboe instead.
"My teacher told me there are millions of clarinetists, so I decided I wanted to try something different," she recalls. Now she can't imagine her life without it.
The one aspect of being an oboist that Hilbert still finds challenging is making reeds. She finds the process "consuming and meticulous," but continues diligently to practice whittling the perfect reed.
Hilbert plays Allegretto from a sonata for oboe and piano by Camille Saint-Saëns, accompanied by Christopher O'Riley.
Mezzo-soprano Mairin Srygley, 17, is a senior at the Baltimore School for the Arts, and appreciates what she calls the "wonderful pre-conservatory training" she has received there. Performance is her main career goal, but Srygley says she loves studying languages as well as music theory and history. She sings "Voi, che sapete" from The Marriage of Figaro by Mozart.
When Harvest Zhang was four years old, he was given a small toy keyboard.
"It was a little blue keyboard with only one octave, and I loved it," he recalls. "I used to plunk out TV theme songs and sing along."
Although Zhang, 15, has long since upgraded to a grand piano, he still loves experimenting with different styles of music. "I'll play anything that can be played on piano, including pop songs," he says. Zhang performs "Russian Dance" from Igor Stravinsky's Petrushka.
The members of the Compass String Quartet have what they call "speed issues."
Violinist Kieran Hanlon, winner of the Jack Kent Cooke Young Artist Award, gets teased a lot for being a slow driver and arriving at rehearsals later than violist Michael Sabatka and violinist William Cho. Cellist Stephen Ryck has failed his driving test twice, once for going too fast and another for going to slow. Luckily, their speed issues don't extend to making music together. They close the show with a performance of the opening movement from the String Quartet in D minor, Op. 76, No. 2 by Haydn.
This program originally aired on March 12, 2008
See Kimani Griffin Play music by Sergio Assad