Illinois Victory, Eliot Mess a Mixed Bag for Dems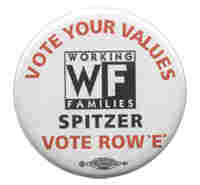 The increasingly nasty and personal battle between Hillary Clinton and Barack Obama for the Democratic presidential nomination has led many in the party to express nervousness about how the fight could jeopardize their chances of winning the White House in November. Not a few e-mails have suggested that if there was any year tailor-made for a Democratic victory, it's 2008, but if any party can fritter away potential success, it's the Democrats.
The pessimism isn't only about the presidential race.
The Democrats won a special congressional race on Saturday, and not just any race; it was for the seat held for the past 22 years by Dennis Hastert (R-IL), who just so happens was the longest-serving Republican House speaker in history until the GOP majority ended with the 2006 elections. He resigned his seat in November.
We can argue (and we will, later) about the significance of this special election. But for all the celebrating that the Democrats were doing over the weekend, the mood in the party dramatically changed with Monday's news that Eliot Spitzer, the governor of New York and a leading progressive voice in the party, was embroiled in a prostitution scandal.
The New York Times reported on its Web site that a federal wiretap of a prostitution ring in Washington, D.C., had revealed the participation of Spitzer, a married father of three daughters.
The news came like a bombshell. Spitzer may not be the most loveable person on the face of the earth, but his personal life was always thought to be above reproach. Dubbed "Mr. Clean" and "Eliot Ness" for his high-profile battles against corruption during his eight years as state attorney general (1999-2006), he was once Time magazine's "Crusader of the Year." His investigation of an escort service in 2004 led to the arrest of 18 people on charges of promoting prostitution.
Reaction has predictably run along party lines. Republicans have called for his resignation. Democrats for the most part have offered sympathy for his family, though one Dem, James Carville, suggested on CNN that the real issue is who leaked the info about Spitzer's involvement in the ring.
At this writing, Spitzer has given no indication he intends to resign. "I have disappointed and failed to live up to the standard I expected of myself," he said at a no-questions news conference with his wife at his side. "I must now dedicate some time to regain the trust of my family." Indeed, there was no resignation in 2007 when another politician, Sen. David Vitter (R-LA), was found to have frequented the services of a prostitute.
Democrats lambasted Vitter at the time not for what he did but for what they saw as hypocrisy; he ran for the Senate on a "family values" platform. But there's a bit of hypocrisy in Spitzer's actions as well, having run for governor as someone who intended to clean up New York. Already the National Republican Congressional Committee has sent out releases questioning whether freshman Reps. John Hall (D-NY 19), Kirsten Gillibrand (D-NY 20) and Democratic candidate Dan Maffei (NY 25), all of whom have received contributions from the governor, intend to return "Spitzer's sleazy money."
Spitzer's image was sullied even before this shocker. He is accused of having his aides try to embarrass his nemesis, state Senate Majority Leader Joseph Bruno (R), by using state police to track Bruno's movements. That incident ended Spitzer's brief honeymoon with the voters, and his numbers have not significantly improved. Plus, his advocacy of driver's licenses for illegal immigrants was widely unpopular and briefly flummoxed Hillary Clinton, whom he supports for president, during an October 2007 Democratic candidate debate.
Spitzer's election as governor in 2006 was one for the history books; his 69 percent of the vote is a modern-day record for the Empire State. If he is forced to resign, his successor will be David Paterson, the current lieutenant governor. It would give the nation its third African-American governor since Reconstruction and it would be the only time in history when two — he and Deval Patrick (D-MA) — were serving simultaneously.
One more thought about Spitzer: In his brief statement to the press on Monday, he said, "I do not believe that politics in the long run is about individuals. It is about ideas." But individuals, not ideas, often feel they are above the law, and it is individuals, not ideas, who often forget they are not indispensable.
Illinois 14th Congressional District: Back to Saturday's special election, in which Democrats won the seat held for two decades by Dennis Hastert. Republicans insist there's not much to read in the 53-47 victory of Bill Foster (D) over Jim Oberweis (R). They will tell you that Oberweis was not the best they could have put up. An unsuccessful primary candidate for the Senate (twice) and governor, Oberweis had a prickly personality and often battled with his fellow Republicans. Some might see the election of a Democrat in a historically Republican stronghold as a potential warning sign for November. But Republicans point to the results of last October's special election in Massachusetts' 5th District, where the GOP nearly won a historically Democratic seat.
I think there's something here for the Republicans to worry about.
The district is more than a Republican stronghold. The boundaries may have changed over time somewhat, but in the past 90 years, a Democrat had won the seat just twice: once in 1932 and once in 1974, and both times they were defeated for re-election.
Whatever faults Oberweis may have brought to the table, NRCC chairman Tom Cole (OK) said just a few days ago, "We feel very good about our candidate. Jim Oberweis has run a good race."
There's always the danger of over-interpreting the results of a special House election. And this may not compare with the psychological trauma the Democrats faced in 1994 when not only did they lose control of the House but they also saw their speaker, Tom Foley (WA), go down to defeat. But, for the record, the seat of the other GOP leader who resigned in recent years — Texas' Tom DeLay in 2006 — also went to the Democrats in the next election. And given the mood in the country, the Bush polling numbers, the rising gasoline prices, and the huge Democratic turnout (certainly compared to the GOP turnout) in the presidential primaries, the results of Illinois 14 could be a bellwether for November.
In addition, there was a special primary election on Saturday in Louisiana's 6th District, where Rep. Richard Baker (R) had resigned. The seat is a GOP bastion, but the Democratic vote on Saturday vastly outdid the Republican vote (the general election is May 3). Adding to their woes, 25 House Republicans are leaving office this year, just two shy of the record 27 that left before the 1952 elections.
Scorecard: Foster's victory gives the Democrats 232 seats to 198 for the Republicans with five vacancies. Here is the list of the 25 Republicans who are leaving Congress: Everett (AL), Renzi (AZ), Doolittle (CA), Hunter (CA), Tancredo (CO), Weldon (FL), Weller (IL), LaHood (IL), Lewis (KY), McCrery (LA), Gilchrest (MD – lost primary), Ramstad (MN), Hulshof (MO – running for governor), Pickering (MS), Saxton (NJ), Ferguson (NJ), Wilson (NM – running for Senate), Pearce (NM – running for Senate), Walsh (NY), Hobson (OH), Pryce (OH), Regula (OH), Peterson (PA), Davis (VA) and Cubin (WY).
Six Democrats are also leaving: Mark Udall (CO – running for Senate), Allen (ME – running for Senate), Wynn (MD – lost primary), Tom Udall (NM – running for Senate), McNulty (NY), and Hooley (OR).
MCCAIN CLINCHES: John McCain's victories on March 4 gave him enough delegates to win the Republican presidential nomination — the earliest a contested GOP nomination has been decided in history. A summary of every Democratic nomination battle since 1952 and when they were settled can be found in the Feb. 13 column. Here's when GOP contests were decided in that same time period:
1952: Ohio Sen. Robert Taft actually received more votes than Gen. Dwight Eisenhower in the primaries, but Ike had the delegates. His victory over the Taft forces at the Chicago convention on credentials and delegate challenges was the first sign that momentum was headed his way. On the first ballot, Eisenhower had a lead over Taft but not enough to go over the top. But when Minnesota switched from favorite son Harold Stassen to Ike, the battle was over.
1956: There was no Republican opposition to President Eisenhower.
1960: Vice President Richard Nixon was virtually unopposed for the nomination.
1964: Sen. Barry Goldwater's (AZ) victory over New York Gov. Nelson Rockefeller in the June California primary was critical. But before he won the nomination on the first ballot, he had to endure a symbolic challenge at the convention from Pennsylvania Gov. William Scranton.
1968: Nixon beat back challenges from both Rockefeller and California Gov. Ronald Reagan, who launched a belated effort at the convention, to win on the first ballot.
1972: Challenges to Nixon from the left (from California Rep. Pete McCloskey) and the right (from Ohio Rep. John Ashbrook) failed to amount to much, and Nixon was nominated with the backing of 1,347 of the 1,348 delegates.
1976: It was the most closely contested GOP convention since '52. Both President Gerald Ford and challenger Ronald Reagan arrived at the Kansas City convention without a majority of the delegates. Ford's first-ballot victory was presaged by the defeat of a Reagan-inspired rules change that would have required all the candidates to name a running mate in advance.
1980: Reagan rebounded from a defeat in the Iowa caucuses to win the nomination going away. Even the decisive victory of former Rep. George H.W. Bush (TX) in the Michigan primary on May 20 was not enough; six days later, he ended his campaign and endorsed Reagan.
1984: There was no Republican opposition to President Reagan.
1988: George H.W. Bush, now the incumbent vice president, all but ended the suspense by winning all 17 contests on March 8, Super Tuesday. On March 29, Bush's main rival, Sen. Bob Dole of Kansas, withdrew from the race.
1992: President George H.W. Bush went undefeated in all of the primaries and caucuses, but he made it official with his victories on March 17 in Illinois and Michigan, which forced challenger Pat Buchanan to scale down his efforts.
1996: Eight years after an unsuccessful bid for the nomination, Bob Dole shook off an unsteady beginning and claimed the nomination following his victory in the California primary on March 26.
2000: Texas Gov. George W. Bush, son of the 41st president, forced Sen. John McCain (AZ) to suspend his campaign on March 9.
2004: There was no Republican opposition to President Bush.
LES ASPIN? NO, MORE ASPEN! A big thank you to the wonderful folks at Aspen Public Radio, who endured a Ken Rudin station visit last week. Special thanks to Andrew Todd, the executive director at APR, and station manager Meredith Carroll for their hospitality, generosity and, above all, patience.
ON THE CALENDAR:
March 11 – Mississippi presidential and congressional primaries. Also: Special election in Indiana's 7th Congressional District to succeed the late Julia Carson (D). Candidates: Andre Carson (D, Julia's grandson) vs. Jon Elrod (R).
April 5 – Primary runoffs in Louisiana's 1st CD (to succeed now-Gov. Bobby Jindal) and 6th CD (to replace Republican Richard Baker, who resigned).
April 8 – Special primary election in California's 12th CD to succeed the late Tom Lantos (D).
IF IT'S WEDNESDAY, IT'S "JUNKIE" TIME ON TOTN: Don't forget to listen to the "Political Junkie" segment every Wednesday on Talk of the Nation, NPR's live call-in program, starting at 2 p.m. Eastern time. This week: Mississippi primary results, what to do about Michigan and Florida delegates, the Spitzer mess, and the Democratic victory in Illinois 14. Remember, if your local NPR station doesn't carry TOTN, you can hear the program on the Web.
IT'S ALL POLITICS: That's the name of our weekly political podcast. It's a combination of brilliant analysis and sophisticated humor, hosted each week by NPR's Ron Elving and me. It goes up on the Web site every Thursday and can be heard here. Want to subscribe? It's easy, and it's free! Go to the iTunes Web site, type in the name of the podcast, and voila. You'll be hooked! Join the dozens of listeners around the world by subscribing!
******* Don't Forget: If you are sending in a question to be used in this column, please include your city and state. *********
This day in political history: Sen. Harrison Williams (D-NJ), ensnared in the Abscam scandal, in which FBI agents posing as Arab businessmen offered bribes to members of Congress, resigns his seat just hours before the Senate was going to expel him (March 11, 1982).
Got a question? Ask Ken Rudin: politicaljunkie@npr.org