Turkish Singer Stokes Debate About Iraq Incursion
A clip of Ersoy singing "Donulmez Aksamin Uskundayim" ("At the Horizon of the Night of No Return").
'Not a Normal War'
Turkish singer Bulent Ersoy is under investigation following her comments against Turkey's incursion into northern Iraq on Popstar Alaturka, Turkey's version of American Idol. Click here to watch a video of Ersoy's comments on YouTube. In the video, Ersoy, who is wearing white, gets into a disagreement with another Turkish celebrity, Ebru Gundes.

A translated partial transcript follows:

Bulent Ersoy: "The wars that Mr. Gencebay [another musician] refers to were noble wars, brave wars. Now, someone writes them by the table and everyone else has to play. If I was able to give birth, if I had a child, someone would decide on the table that you do this, you do that and this is how we weaken them, etc., etc., and in this situation, I will be the one to bury my child. How can that be?

"OK, the country is indivisible, whatever, but should mothers give birth to all these children and bury them? Is this it? This is not a normal war; there is an intrigue. I may not know what a child is like you do. I am not a mother, and I won't ever be able to be one. I am a human. However, I may not understand how those mothers' hearts are burning in flames, but mothers can understand. I cannot sacrifice my child to others' tableside war. A game is played and we are toys in it."

Ebru Gundes: "God willing, God gives me a son and I send him to the military with pride and joy."

Ersoy: "Then you have his dead body back."

Gundes: "For this state, for these lands, as a woman I would do whatever is necessary. And my son would do too, like lions. If we had death in destiny, we would live through it. That is why martyrs are immortal and the country is indivisible."

Ersoy: "Martyrs are immortal; the country is indivisible. Always the same cliche words. We keep saying these. Children are going, bloody tears, funerals... All cliche words."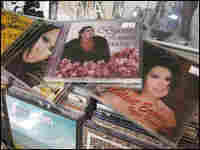 An angry public debate is under way in Turkey over last month's military incursion against Kurdish separatists in northern Iraq. At least 24 Turkish soldiers were killed during the eight-day operation. Turkish nationalists accuse the military of prematurely ending the offensive under pressure from the United States, and some in Turkey criticize the operation altogether.
Among the latter group is Bulent Ersoy, a singer better known for her sex-change operation than for her politics. But now, Ersoy may face charges of treason for her comments against the incursion.
Ersoy is no stranger to controversy. The singer of Turkish classical music was banned from performing on stage by Turkey's military dictatorship after she had the sex-change surgery in 1981. Years later, an elected civilian government officially recognized Ersoy as a woman and allowed her to resume her career.
More recently, the transsexual diva became fodder for the local tabloids when she married and then divorced a much younger man who was a contestant on Popstar Alaturka, the Turkish version of American Idol. Ersoy appears as a judge on the program.
Then, last month on the show — at the height of the Turkish army's incursion into northern Iraq — Ersoy suddenly became the country's most vocal war critic.
Speaking Out
Seated in front of a giant digital Turkish flag and dressed in a frilly white gown, the raven-haired singer challenged the army's operation.
"This is not a normal war," she said. "I am not a mother ... but mothers can understand. I cannot sacrifice my child to others' tableside war. A game is played and we are toys in it."
When another celebrity judge responded, saying she would be proud to see her son martyred in defense of the country, Ersoy accused her of repeating empty cliches.
Angry calls flooded the state broadcasting watchdog after the show. The government agency rebuked the TV station, and a prosecutor has since launched an investigation to determine whether Ersoy insulted the military, which is considered a criminal offense in Turkey.
Some Turks, however, are quietly applauding.
"People got very angry with her, but in essence, she was right," says Mehmet Ali Birand. "She was spelling out the gossip around the kitchen table of a normal Turkish family."
The veteran TV news anchor says Ersoy voiced doubts that many Turks won't dare speak about in public.
"She was saying, instead of organizing a military operation, get down to the table and solve the problem politically as well," he says.
A Sign of Progress?
Turks are fiercely patriotic, and they are also passionate about music. At the CD shops that line Istanbul's busy Istiklal Street, people were divided over the outburst from one of their most beloved singers.
"She's wrong. You're not a man in Turkey until you do your mandatory military service," says 24-year-old conscript Hassan Peker. He petitioned to be sent to the front lines during the Iraq incursion, he says.
Next door, music store owner Songul Tanrikulu, who is a Kurd, called Ersoy a brave woman.
"She shows a sensitivity of a mother, saying that she would not send her child to war, and I think it's really incredible," she says.
Hugh Pope, an expert on Turkey with the International Crisis Group, says the singer's televised outburst is a sign of the democratic progress the country has made in the last 20 years.
"That she should take a very emotional political stand, and that she feels free to express it on a major television station is, I think, a very hopeful sign that Turkey can start grappling with the underlying issues of the Kurdish conflict and not just the military ones," Pope says.
Turkish-Kurdish Diplomacy
Turkey withdrew its soldiers from northern Iraq at the end of February. Less than a week later, Iraqi President Jalal Talabani, a Kurd, made a landmark visit to the Turkish capital.
"The operation ... has perhaps smoothed the way for the visit of Jalal Talabani to Ankara," says Pope, adding that the Iraqi Kurdish leader has had a long and difficult history with the Turks. "Ankara has begun to normalize both its relationship with Baghdad, and it also appears to be preparing to normalize, within the context of a united Iraq, with the Kurdistan regional government [in northern Iraq]."
Meanwhile, Turkish Prime Minister Recep Tayyip Erdogan announced plans this week to invest up to $12 billion over the next five years in southeastern Turkey.
This impoverished region is populated predominantly by members of Turkey's long-oppressed Kurdish minority. For more than 20 years, the southeast has also been the main battleground of the long conflict between Turkish security forces and the separatist fighters of the Kurdistan Workers Party, or PKK. The conflict has claimed more than 30,000 lives.
Threat of Charges
Despite hopes for rapprochement between the Turks and the Kurds, Ersoy still faces the threat of possible criminal charges after her televised outburst.
But the flamboyant singer is standing by her remarks. At a press conference, she said she did her artistic duty by confronting a taboo — and added that if the state presses charges, she will defend herself in court.