Prospects Uncertain as Reformists Unite in Iran
Prospects Uncertain as Reformists Unite in Iran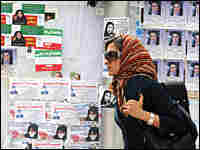 Atta Kenare/AFP/Getty Image
A View into Iran's Dynamics
Iran is holding elections for its parliament Friday, and Iranian reformers are hoping for a comeback.
Reformers in Iran controlled parliament from the late-1990s to 2004. Since that time, they have been all but shut out of politics.
But as Iran's economy has worsened — with growing inflation and unemployment — conservative leaders have turned to squabbling about who is to blame, providing an opportunity for Iran's reformers.
One of the charges conservatives level against the reformists is that they don't support the country's nearly 30-year-old system of Islamic government.
But for the reformists, the key issue is the economy. Inflation is at 20 percent, unemployment is rising, and President Mahmoud Ahmadinejad has made promises of prosperity that he and his conservative supporters in parliament have been unable to fulfill.
Reformist candidate Behzad Gareyazi believes the conservatives are vulnerable on economic issues.
"People who are voting will consider the situation they are living in and the situation they were in the previous government or administration. In [former] President [Mohammad] Khatami's administration, I believe people think they had a better livelihood," Gareyazi says.
The reformists must overcome considerable obstacles if they are to regain even a substantial minority of seats in the parliament. Hundreds of reformers were disqualified by the Guardian Council, which has ultimate say over who can be a candidate in Iran.
The council is appointed by Iran's supreme leader, Ayatollah Ali Khamenei, who wields final authority in the country.
As a result, the two main slates of reformists have not been able to nominate enough candidates to run for all the seats in the 290-seat parliament.
The campaign is very short, less than a week, and the reformists don't have access to state-controlled media. But Iranians are familiar with this battle between conservatives and reformers. It has dominated politics here for more than a decade.
The conservatives have sought to portray the reformers as enemies of the Islamic Republic. At a meeting this week of the United Front of Fundamentalists, Mohammad Nabi Habibi, the party's secretary, charged that the Islamic Republic is under threat from secularists.
"They are outsiders," Habibi said. "Our main goal is to fill the seats in parliament, so ... the enemies of the Islamic Revolution can't gain control."
The conservatives may have some problems of their own in this election. They are running five separate slates — some that support Ahmadinejad's policies, others that are critical of him and led by well-known personalities who hope to replace him in next year's presidential election.
Iranians understand that what can be achieved in elections like this is limited. But at a rally Wednesday in Islamshahr, a small city on the southern outskirts of Tehran, there were still those who expressed the hope that participation in elections, however imperfect, can bring change to Iran.
Abdullah Mersali, a high school English teacher, was among those in the crowd.
"We are going to tell to other countries that we can make better our community, we can make better our future, by this election," Mersali said.
Results in Iran's parliamentary election are not expected until next week.
Iranian Elections Provide View into Power Dynamics
Atta Kenare/AFP/Getty Images
On the face of it, Iran's elections Friday would seem to have little relevance for anyone except the country's ruling clerics.
The religious board that supervises elections has disqualified thousands of independent and reform candidates. The list of those prevented from running in the election is said to include 19 members of parliament. At one point, the list included the grandson of the late Ayatollah Khomeini, the man who led the Iranian Revolution — although he has now been reinstated as a candidate.
But some observers say that even a flawed election can show the United States a lot about the dynamics of power among factions in the Iranian government.
Learning from the Election
"I don't mean to imply that Iranian elections are democratic, but the results are relevant," says Mohsen Milani, chairman of the department of government and international affairs at the University of South Florida in Tampa. "The elections can show who has the upper hand among Iran's governing elite," he says.
James Phillips, a research fellow at the Heritage Foundation, says the advantage is likely to belong to President Mahmoud Ahmadinejad.
"These aren't genuine elections," he says. "The Ayatollahs control who you can vote for. This could simply help Ahmadinejad cement his power."
Phillips notes that those who were forbidden to run in this election included some people who have held political office in the past. He says the process of disqualifying opposition candidates amounts to a "slow-motion purge" of reformers from the government.
Speaker Position Key
Milani says a key indicator of where power lies will be who becomes the new speaker of parliament.
"One person to watch is Mohammed Baqer Qalibaf, the mayor of Tehran," Milani says. "He could challenge Ahmadinejad for the presidency in 2009."
Qalibaf is 46 years old and, like Ahmadinejad, he served in Iran's Revolutionary Guard during the Iran-Iraq War. From 1999 to 2005, he served as the Islamic Republic's top police official. Qalibaf lost to Ahmadinejad during the presidential election of 2005, but later won the election to succeed Ahmadinejad as mayor of Tehran.
Phillips agrees that Qalibaf is one of the strongest members of what he calls the Iranian government's "internal loyal opposition." He characterizes Qalibaf as a hardliner, but says he lacks Ahmadinejad's strong religious focus.
"I would expect him to make another run against Ahmadinejad next year," Phillips says.
Voter Participation
Phillips says that when the election results come in, one of the most interesting counts will be the number of people who actually bother to vote.
"I think participation will be down," he says, "in part because the regime has given people such limited choices."
As to whether the United States should take sides in the election, Milani says, "I believe the U.S. should be quiet. Any attempt by the U.S. to praise one faction or another is just going to hurt them in the eyes of the Iranian public. Let them fight it out, and then we can see what happens."