Black Players' Struggles Find Voice in 'Black Magic'
Black Players' Struggles Find Voice in 'Black Magic'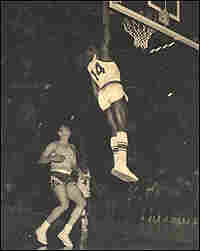 Scenes from 'Black Magic'
'Black Magic' vignette about the secret 1944 game between Duke and the North Carolina College for Negroes
'Black Magic' vignette about Bethune Cookman player John Chaney
In March 1944, basketball players from the North Carolina College for Negroes played a secret game against military medical students from Duke University.
Rabid segregation kept the teams from playing together in public, and by the end of the clandestine matchup, the North Carolina players had soundly beaten Duke, 88-44.
The secret game was just one of the historic incidents featured in a new ESPN documentary about early African-American basketball pioneers and the historically black colleges and universities that nurtured them. Black Magic tells the stories of many of the players who gradually broke through the barriers of segregation and racism and set the standard for the basketball stars of today.
John McLendon coached the North Carolina team in 1944. His widow, Joanna, remembers that the experience was unique for students throughout segregated America.
"Some of his players had never had any contact with whites before. Some of them had never touched a white person to shake hands," she recalls.
Black Magic co-producer Earl Monroe, who was named one of the 50 greatest players in NBA history, says the historic 1944 game wasn't an isolated incident.
"That also made its way to Winston Salem when I was there," he recalls. He says his team played Wake Forest at midnight because they weren't supposed to be playing each other.
"So there are a lot of revelations in this as well as the civil rights struggle," Monroe says.
Sonny Hill, the legendary founder of a 40-year-old Philadelphia basketball league, says Black Magic shows younger African-American players how far they've come. Basketball, he says, was the backdrop to the social ills that blacks faced then – and even today.
The documentary tells the story of players like Cleo Hill, who, in 1961, was the first player from a black institution drafted by the NBA in the first round. Sonny Hill — who is unrelated — says Cleo Hill's time on the St. Louis Hawks was marred by trouble from the start.
"Cleo went into a hornet's nest in St. Louis. It was a southern basketball franchise — they really didn't want black players," Hill says. "Then Cleo Hill and several other black players were denied access to a hotel dining room in Lexington, Ky. Rather than support Hill, the St. Louis Hawks retaliated and refused to let him play."
Though Hill scored 26 points in his first game with the Hawks, he was eventually benched, cut from the team, then blackballed from playing in the league ever again.
Many of the legendary athletes in Black Magic say they hope it has a positive effect on young African-American basketball players, some of whom seem to have forgotten their roots, the athletes say. Ben Jobe, 75, who played at Tennessee's Fisk University and coached at several schools, says reminding players about the past is invaluable for the game's future.
"In order to have a future you have to embrace your history, and we are paying a dear price because we don't know our history," Jobe says.
Black Magic airs March 16 and 17 on ESPN.
Related NPR Stories
Web Resources