Obama Delivers Watershed Speech on Race, Politics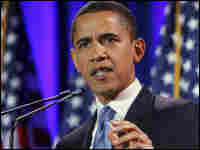 Presidential hopeful Barack Obama delivered a speech today, repudiating the inflammatory remarks of his pastor, Jeremiah Wright, and summing up his assessment of race in America.
He said it is time to "move beyond some of our old racial wounds." Did his response come soon enough, and did it hit the right tone?
We get analysis from Sherrilyn Ifill — a civil rights lawyer and professor at the University of Maryland School of Law — and Ron Christie, vice president of the lobbying firm DC Navigators. He's also a former special assistant to President George W. Bush.