Tiny Tots Make Big Music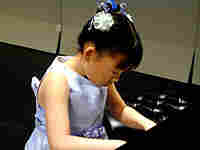 In its "Pipsqueak Highlights Show," From the Top revisits performances by very young musicians, accomplished beyond their years, including a 12-year-old violinist with a virtuoso showpiece by Wieniawski and an eight-year-old pianist who plays Debussy.
Any roller coaster that twirls upside down is just fine with eleven-year-old Oliver Aldort. He also takes risks as a serious classical musician. At age seven he asked his mom to begin booking his concerts, and now he studies at the New England Conservatory of Music in Boston. Aldort plays music from the Cello Concerto No. 1 by Camille Saint-Saens.
Kevin Lu, 11, loves an audience. "The best thing about music," he says, "is getting a chance to perform and show off." He's not so crazy about practicing, however, but it's already paid off. Lu played a finger-twisting piece by Liszt at the Virginia Music Teachers' Association State Competition and took home second prize. He plays "Dr. Gradus ad Parnassum" by Claude Debussy.
Twelve-year-old Eunice Kim's hero is the acclaimed violinist Gil Shaham. "I love his musicality and personality," she says. "He's like, wow!" Unlike some youngsters, Kim has no stage fright whatsoever. She loves the audience recognition that also comes with being a famous musician. "I really like playing in front of people, and when I do I think I actually play better." Kim performs the Polonaise Brillante No. 1 by Henryk Wieniawski.
Early on, Timothy Callobre's parents hoped he would be drawn to the piano they had in their home. But already at age four, Timothy insisted on guitar lessons. His parents thought he'd grow out of his guitar obsession, but instead it grew. Finally the parents gave in. "He kept after us from the time he was four to almost eight years old, and he didn't let anything sway him," says Callobre's mom. "Finally we broke down and gave him lessons, and I'm so glad we did!" Callobre, age 10, performs the Choros No. 1 by Heitor Villa-Lobos.
Flutist Helen McGarr, 12, has an older brother and sister, both of whom play instruments. She originally started playing music because she wanted to be more like them. Her brother plays guitar and her older sister plays piano. She also has a younger sister who hasn't picked up an instrument — yet. McGarr performs the first movement from the Flute Sonata by Francis Poulenc.
Eight-year-old Sarina Zhang has finally grown tall enough to reach the pedals of the piano. "Before I turned eight, I'd have to stand up if I wanted to use the pedals," she explains. Zhang has been playing for half of her life, but her interest began long before she turned four. "When I was a baby I used to sit at the piano bench and listen to my older brother play. I wanted to play, too," she recalls. Zhang performs Debussy's Arabesque No. 1.
The Gioco String Quartet is the perfect name for this lively crew of players. "We originally were going to call ourselves the 'Giggle Box Quartet,'" says violinist Emma Steele. The players have a tendency to giggle uncontrollably during rehearsals. Gioco means "playful" in Italian. The group has been together three years — a long time considering that the oldest member is just 13. The other members of the quartet are violinist Hannah Selonick, 12; violist Nicholas Lash, 13; and cellist Ben Lash, 11. The group plays the Second Miniature Quartet by David Stone.
This show originally aired January 24, 2007