E.S.T. at the North Sea Jazz Festival
In Association with Radio Netherlands
Ploctones in Concert on JazzSet 2007
E.S.T. in Concert on JazzSet 2007
E.S.T. Set List
"When God Created the Coffee Break"
"800 Streets by Feet"
"Dolores in a Shoestand"
Ploctones Set List
"Shortcuts"
"Boompetit"
"Ernesto"
Esbjorn Svensson — the leader, composer, and pianist of Swedish trio E.S.T. — died in a scuba-diving accident near Stockholm on June 16, 2008. He was 44. Svensson is survived by his wife and two children.
Svensson pushed the boundaries of jazz with his trio by incorporating elements of funk, classical, and electronica with his trio. It not only appealed to traditional jazz fans, but also reached out to a younger generation raised on rock. In his memory, JazzSet presents a concert recorded at the 2007 North Sea Jazz Festival.
One of the biggest music events in the world, the North Sea Jazz Festival takes place every July at the Ahoy Center in Rotterdam, the Netherlands. The Ahoy Center is a massive modern sports complex, with so many venues and arenas that one person could never get to even half the music.
Though many bands come from the U.S. to North Sea, the opportunity for JazzSet was to check out bands from Europe. We begin with the Ploctones from the Netherlands, and then rush over to another stage to catch the acclaimed Swedish trio E.S.T.
In 2001, guitarist Anton Goudsmit organized a band to perform music commissioned by Dutch national radio. The group he formed is the Ploctones: Goudsmit with Efraim Trujillo on saxophones, Jeroen Vierdag on bass, and Martijn Vink on drums. Goudsmit is a mover and a dancer onstage, while Trujillo is California-born, living in Amsterdam since 1980. Vierdag's versatility encompasses Latin and Brazilian music, while Vink is the drummer of the well-known Metropole Orchestra. The emcee at North Sea hails them for their "grooves and improvs."
Next, a few yards outside of the Ahoy Center, there's an outdoor tent with the sides rolled up to catch a breeze. It's stuffy because people keep piling in to see and hear the Swedish trio that Pat Metheny champions — and that k.d. lang hired to open a recent North American tour. After 15 years together, E.S.T. is as one: "Three minds and hearts beating together in the moment," writes a BBC reviewer.
Virtuosic on piano, bass, and drums, and as singleminded as a chamber group, E.S.T. is more than jazz and classical music. Its members bring laptops to the stage, adding textures, processing, and selectively applying distortion.
They are Esbjorn Svensson on piano, his childhood friend Magnus Ostrom on drums, and bassist Dan Berglund.
Thanks to Manon Miessen, Radio Netherlands Producer, and recording engineer Mark Broer.
E.S.T., Recorded Live in Studio 4A
Just the Music
Serenade for the Renegade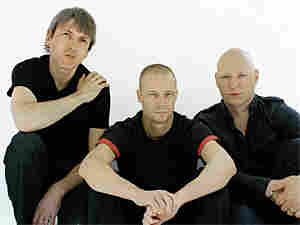 Sweden's Esbjorn Svensson Trio (E.S.T.) is often cited as a prime example of the difference between European and American jazz. Its music pulls in elements of techno, classical, rock and pop.
Some critics say that American jazz hews too closely to tradition at the expense of innovation. Norwegian pianist Bugge Wesseltoft puts it this way: "I haven't heard one interesting American record in the past 20 years. It's like a museum — presenting stuff that's already been done."
Esbjorn Svensson, whose songwriting and distinctive piano playing drives E.S.T., disagrees with that assessment.
"I think there's a lot of fantastic jazz coming out of (the U.S.)," he tells guest host Brian Naylor. He does, however, agree that Europeans are more ecumenical when it comes to jazz. "It's your folk music," he says, alluding to the genre's American roots. So there's a natural tendency in the U.S., he says, to conform to tradition — a tendency not shared by European artists.
Consequently, E.S.T. can cite not only jazz musicians as influences, but also the likes of Radiohead and classical innovator Bela Bartok.
Svensson says he grew up listening to all kinds of music, becoming, among other things, "a real gospel freak." E.S.T. keeps one foot firmly entrenched in traditional jazz, but the trio also makes use of electronic effects and multitracking.
The group has been together since 1993. Along with Svensson, E.S.T. includes drummer Magnus Ostrum and bassist Dan Berglund, whom Down Beat magazine called "a powerhouse bassist with a terrific sound."