Cooking Gourmet with 99¢ Food
Cooking Gourmet with 99¢ Food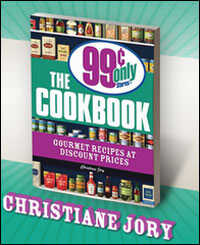 The 99-Cent Evangelist
Ever since she discovered the 99-cent produce aisle, Sheila Dvorak insists on buying all her food from 99¢ Only Stores. Her friend, 'Day to Day' producer Martina Castro thinks this is disgusting and ridiculous .... until she takes a visit to the store. Listen to the frugal debate that ensues.
Become a Frugal Gourmet
Click for the recipes for the pot pie, apple pie and vegetable creation that Christiane Jory served to Alex Cohen.
Christiane Jory explains how to make Rice Krispie treats with 99-cent ingredients.
These days, the idea of making a three-course meal for a family of four for less than $20 can seem impossible.
Unless, that is, you shop at the 99¢ Only Stores. There are more than 200 of them throughout the West — not to mention other bargain variations like the Dollar Store — true to their name, everything costs exactly 99 cents.
Christiane Jory thoroughly embraces this fact in her book, The 99¢ Only Stores Cookbook. The idea may sound silly, but the book is filled with recipes for gourmet items like gruyere beignets, salmon souffle and Pinot Noir poached pear tarts. Many of the recipes have been adapted from culinary classics like the Joy of Cooking and the Moosewood Cookbook.
Curious and hungry, I went to visit Jory at her home, where she prepared chicken pot pies, scalloped potatoes and apple pie, entirely with ingredients that she purchased at the store.
Relying entirely on 99¢ food requires serious creativity. As I watched her create crust from Pillsbury biscuit dough and dump chicken, spinach and other veggies from cans, it was hard not to be skeptical.
Jory can relate. Although she has been a long-time fan of 99¢ Only Stores, the idea of purchasing something edible there only came to her after many years of bargain shopping, she says. (Yes, she does have an extreme affinity for this particular line of bargain store, but there's no official endorsement involved.) The cheapo-food epiphany was inspired one random summer day, she recalls, by a seemingly classy lady.
"I was broke, and I like my wine, and then I saw this woman buying wine and I was like, 'No way!' And she had fancy shoes on and I looked at her and she said, 'It's really good.' So that's when I bought a sauvignon blanc. And I had wine for the summer, thank God. And that's when I started thinking maybe there's food here too," she says
Indeed, there was plenty to eat in the store — most of it brands that she had never heard of, in boxes that were misshapen or discolored. But the contents tasted just fine, she says. And with a bit of innovation, Jory says, she realized 99-cent ingredients could turn into truly delicious dishes.
Indeed, the bargain pot pie that popped out of the oven during one particular meal, as she shared these frugal tales, looked like something worthy of Martha Stewart. Served in her mother's best china, the potatoes au gratin with green chiles could have been served at a fancy restaurant. Washed down with a glass of 99-cent vino, it tasted suprisingly yummy.
Recipes Based on 99-Cent Ingredients
The offerings at a 99¢ store vary on any given day, but there are certain basics that tend to always be there. Christiane Jory created these dishes for Day to Day's Alex Cohen based on the ingredients she found to work with the week of their dinner.
Chicken Pot Pie
4 Individual Pies, Cost: About $9.99
Ingredients:
2 Tablespoons Danish Creamery butter + some to grease ramekins
4 cans Picket Fence Poultry Farms chunked chicken, drained
1 teaspoon Santa Paula ground thyme
1 can Del Monte mixed vegetables drained, reserve the liquid
1 can Del Monte Whole Leaf spinach, drained
1-2 tablespoons fresh ground McCormick pepper to taste
1/8 cup Santa Paula diced dried onions soaked in the reserved mixed vegetable liquid + 3 Tablespoons Foggy Bay white wine
1 12 ounce bottle Franco-American Slow Roast chicken gravy
1 container of 10 count Pillsbury Golden Flaky biscuits
Instructions:
Preheat oven to 400 degrees.
Grease 4-(4 ½" diameter x 2 tall") ramekins
Melt 2 tablespoons butter in a large fry pan.
Add reconstituted onions, thyme and pepper and sauté for 1 minute.
Add chicken and sauté for 1-2 minutes.
Add mixed vegetables and spinach and incorporate thoroughly.
Add gravy and mix to heat through.
Remove from heat.
On a well floured surface (Romina all purpose flour) roll out each biscuit to bigger than the size of the ramekin. Line each ramekin with a biscuit using an extra half of a biscuit to line the sides to the top.
Place in heated oven and par-bake for 3-4 minutes.
Open oven door and carefully fill each ramekin to the top with the filling.
Cook another 4-5 minutes.
Open oven again and place the remaining rolled biscuits atop each pie. (1 each)
Cook until tops are golden brown.
Remove from oven and let cool about 5 minutes before eating.
Green Chile and Cheddar Scalloped Potatoes
4 servings, Cost: About $1.99
Ingredients:
1 box Alpine Foods Cheddar Cheese Au Gratin Potatoes (other flavors will work)
2 tablespoons Danish Creamery butter
2 / 3 cup Dairy Ranch Fresh milk
1 cup Ortega diced green chilies
Instructions:
In a large saucepan, heat 2 cups hot water, milk, butter and sauce mix.
Stir well to combine.
Add potatoes and chilies and bring to a boil.
Reduce heat and simmer covered for 7 minutes stirring occasionally.
Remove cover and cook another 7-9 minutes. Sauce will thicken during this last cook time. Continue to stir to avoid mixture from sticking to the bottom of pan.
Remove from heat and serve.
Apple Pie
Servings:6-8 Cost: About $3.99
Ingredients:
1 package (2 crusts) Roundy's Pie Crusts
2-20 ounce cans Polar Fuji apples, drained
¼ cup Romina all purpose flour
¼ cup C&H white sugar
½ teaspoon Santa Paula cinnamon
1/8 teaspoon Santa Paula ground ginger
Dash Encore Premium ground clove
Dash McCormick salt
2 Tablespoons Danish Creamery butter.
Instructions:
Pre-heat oven to 425 degrees.
Place one of the frozen crusts upside down on a piece of parchment paper. As it thaws it will pull away from the pan and lie flat. This is your top crust.
While both crusts are thawing (about 20 minutes), mix flour, sugar, cinnamon, ginger, clove, and salt in a large mixing bowl.
Add apples and stir to coat evenly.
Pour apples into pie crust and place flattened crust on top.
Seal edges firmly with the tines of a fork and cut 4 slits in the top of the pie to allow steam to escape.
Wrap tin foil around the outer edge of pie. (This will help avoid outer crust from burning.
Place on a baking sheet and cook about 30 minutes.
Remove tinfoil and continue to cook until crust is golden and juices are bubbling. About 15-20 minutes