An Immigration Raid's Fallout in Colorado
An Immigration Raid's Fallout in Colorado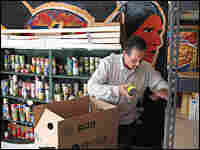 Three months ago, federal immigration agents arrested nearly 1,300 people in raids on six Swift & Company meat-packing plants. One of those plants was based in Greeley, Colo., where many immigrant workers are now in limbo.
Of the workers deported after the raids, some have already returned to the United States illegally. Others await court dates, and are unable to work in the meantime.
No charges have been filed against Swift managers. It appears the company made reasonable attempts, under federal law, to ensure its employees were here legally. But the raids have cost Swift about $30 million in lost production, and for hiring and training replacements.
Swift has tweaked some of its hiring procedures, and says it will make every effort to make sure its replacement employees are legal.