First Slow Food, Now a Movement for Slow Travel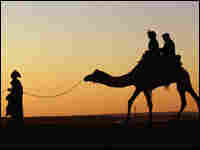 Modern travel can take its toll on a person — and on the environment. Ed Gillespie, who just returned home after 381 days on the road, decided to ditch airport security altogether and see the world from the hump of a camel, the bridge of a cargo ship and the seat of a bicycle.
Gillespie's voyages — none by plane — took him from his home in the south London through Europe, Mongolia, Japan, Australia, French Polynesia, Mexico and Central America. He says it took him 16 days to cross the Pacific Ocean, for instance.
"The journey is the reward," Gillespie says. "One of the things we're trying to challenge is that notion that the vacation or the holiday only begins when you arrive at your destination. ... All the different things that you experience en route are actually part and parcel of that experience."
Gillespie says he's working on a "slow travel" manifesto.
"What is the purpose of travel?" he asks. "Is it about a checklist of sights that we want to go and see? ... Or is it actually about the notion of just getting away? And can we experience that notion of getting away with methods that don't have the same kind of environmental impact that unfortunately flying does?"
>> Do you like to go slow? Tell us how you go, on the BPP blog.