Poll: Obama Unscathed by Pastor's Remarks
Poll: Obama Unscathed by Pastor's Remarks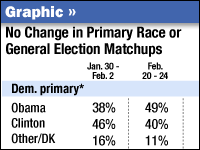 Read the Full Report
Support for Sen. Barack Obama (D-IL) appears undiminished by the controversy over his former pastor's statements — even though many voters say they were personally offended by the Rev. Jeremiah Wright's comments, according to a Pew Research Center poll.
The poll also gauged public opinion about the economy — which is increasingly negative — and provided some positive news for another presidential candidate, Sen. John McCain (R-AZ).
Andrew Kohut, director of the Pew Research Center, tells Robert Siegel that about 80 percent of the survey's 1,503 respondents said they had heard about Wright's comments; a similar number had followed Obama's response.
Slightly more than half characterized Obama's response as excellent or good, and he emerges with the same numbers he had before the controversy in both his race against his Democratic rival, Sen. Hillary Clinton (D-NY), and McCain.
The poll also takes an in-depth look at the way white Democrats feel about their party's two candidates.
Kohut says the poll found that Obama has a "glowing" image.
"He has a better image on almost all personal dimensions, save patriotism, than Hillary Clinton," he says.
Kohut says the survey found that Obama engenders a "positive emotional response."
"He makes them feel hopeful, proud. Feelings really drive opinions about Obama," he says.
The downside identified by the survey is that the social beliefs and attitudes of a significant percentage of white Democrats are an obstacle for Obama.
"Critics of Obama, among Democrats, more often say that equal rights have been pushed too far, more often disapprove of interracial dating. They think we should fight for our country, right or wrong, and that immigrants represent a threat to the nation," he explains.
"The social conservatism of these voters is the issue for Obama — not so much what he says or what he does, but what he represents to them," Kohut says.
Kohut also notes that only 11 percent of respondents said the economy is in excellent or good shape — even though 45 percent are satisfied with their own financial situation.
The survey found that more members of McCain's party think the GOP will get behind him and that an increasing percentage of independents say he will govern the country differently than the way President Bush does.
And that's good news, Kohut says, because Bush's approval ratings are down to 28 percent.
"That is the lowest that we've recorded for him and that is very low for most American presidents," he says.