Meet the First: Pakistan's Pioneering Female Skier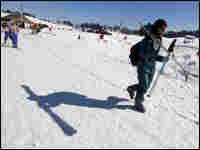 In 2002, Anmaar Habib was the first female skier to represent Pakistan in any international ski event. She now has her sights set on an even bigger goal: to represent her country at the 2010 Winter Olympics.
Habib, who prefers to be called AJ, is an 18-year-old high school senior and competitive skier. She lives and trains in the mountains of Northern California, at Sugar Bowl, an exclusive ski academy that some say is the best in the U.S. But it's approximately 8,000 miles away, in the mountains of her native country of Pakistan, where AJ intends to make her mark.
"I want to be the first person, as well as the first woman," she says, responding to those she encounters who wonder about a Pakistani skier — let alone a female Pakistani skier. "Me representing Pakistan in the Winter Olympics would be a total breakthrough for the country as far as athletics and as far as the respect for women and how women view themselves there."
Skiing in Pakistan is not for the faint of heart. AJ describes her voyage to the Karakoram mountain range, a rugged 700-mile stretch of peaks on the border of Pakistan and China. To get there, she says, she flies from Reno, Nev., to Islamabad, then takes to the highway for an 18-hour drive to a small village. From there, she says, it's still three more hours of mountainous road to the slopes.
The one civilian ski resort in Pakistan? "It's currently inaccessible," she says, "because it's been taken over by the Taliban."
Arduous journeys and men with guns aren't the only things that make it complicated for women skiers in Pakistan — it's also the clothing. "A lot of women cover their head. But I don't," she says. "When we're not skiing, we wear a shawl. ... We don't wear speed suits, because they're pretty much your second skin. ... I wear my speed suit, and I just wear sweats over it."