Brilliant in Boston: Teens Play Modern Classics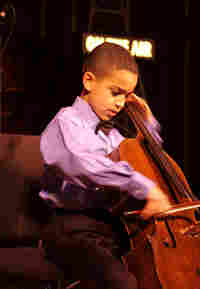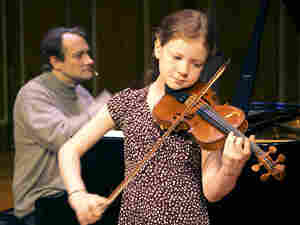 From New England Conservatory in Boston, eight classical musicians – none older than 13 – showcase their remarkable accomplishments. Taking the Jordan Hall stage, a 10-year-old violinist plays Bartok, a 13-year-old pianist tackles a diabolical piece by Prokofiev, and a multi-talented 11-year-old cellist performs music by Kabalevsky. Also, a 13-year-old composer debuts a new work.
Ten-year-old violinist Alice Ivy-Pemberton enjoys practicing almost as much as she enjoys performing.
"I like figuring out what kinds of things I can do with the music and hearing them perfected," she explains. "It's not just practicing, it's experimenting."
Ivy-Pemberton plays music from Bela Bartok's Rhapsody No. 1 for Violin and Piano, with Christopher O'Riley at the keyboard.
Stella Wong was only three years old when she attended her first piano lesson, and from that day on she knew she wanted to devote her life to being a pianist. She's so devoted to her instrument that, on occasion, music has even invaded her sleep.
"I probably practice two or three hours a night before I go to bed, and my mom says that sometimes she'll look over at me sleeping and I'll be practicing fingerings on the blanket," says Wong. "Even when I'm asleep, the music is still going on in my head and my hands." Wong, a recipient of the Jack Kent Cooke Young Artist Award, performs Suggestion Diabolique by Sergei Prokofiev.
When he was a baby, nothing held Lev Mamuya's attention quite like music.
"My grandmother was a cellist," says Mamuya. "I remember she would take out her cello and let me pluck at the strings." When he was just two years old, Mamuya knew he wanted to play cello too. He received his first cello (a one-tenth size model) at the age of three.
Now that he's 11, Mamuya not only plays cello, but also plays piano, composes music, and performs with two chamber groups. He plays the finale from Dimitri Kabalevsky's Cello Concerto No. 1.
Thirteen-year-old Matthew Woodard loves the process of composing music.
"When I compose, I sit down at the piano and write everything out by hand," he says. "I enjoy thinking up the music and getting it all together in my head before setting it on paper." Only after he has worked it all out, does he use a computer program.
But listening to his piece being played on a computer pales in comparison to hearing it played by live musicians. "As a young composer it's hard to get your music performed," he says, "but when you do get that opportunity it's just wonderful. There's such a level of expression and musicianship that you can't hear when you listen to MIDI files."
Woodard's "Le Printemps" (Spring) and "Le Vent et les Vagues" (The Wind and the Waves) are premiered by The Maggiore Trio, made up of 12-year-old violinist Anna Lee, 13-year-old cellist Taeguk Mun, and 11-year-old pianist Alice Burla. They are all students at Juilliard's Preparatory Division.
It was the first time they played music by a living composer, and to help bring the music to life, they developed imagery to go with each piece.
"The first is called 'Spring,'" says Lee. "So we tried to imagine a sunrise over a beach." "The second is called 'The Wind and the Waves,' so we think of a tsunami covering everything in its path," adds Burla.
Upon hearing his piece played for the first time, Woodard applauded the Trio, saying, "They did very, very well."
The Maggiore Trio closes the program with the "Gypsy Rondo" from Joseph Haydn's Piano Trio in G major.
This program originally aired on April 2, 2008.