Greeks and Turks Move Toward a Cyprus Solution
For nearly 25 years, Cyprus has been divided — Greeks in the south and Turks in the north. But leaders on both sides have agreed to open a crossing, which reporter Mike Theodulou says is a step toward reuniting the island.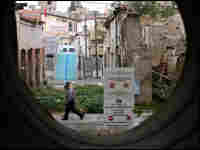 ALISON STEWART, Host:
After Turkey invaded the north in '74, scooped up about 37 percent of the island in a move they saw as protecting the Turkish community there. The leaders of Greek and Turkish Cyprus have agreed to open this pedestrian crossing on Ledra Street, the first step in restarting talks on uniting the island. Mike Theodoulou lives just a short distance from Ledra Street. He is a reporter for the Christian Science Monitor, and he joins us now from Cyprus. Hi, Mike.
MIKE THEODOULOU: Morning.
STEWART: Morning. So, you can see Ledra Street from your apartment. Can you describe for us what it looks like? What the barrier looks like?
THEODOULOU: There are buildings that have dilapidated, haven't been lived in since '74, apart by stray cats and rats. It's overgrown. The buildings are crumbling. This week, municipal workers from both sides have been shoring up those buildings so that when they take down the barricades from the two sides in a few days time, it will be safe for pedestrians to walk through.
STEWART: At this point, just as a point of comparison for our listeners, is this crossing sort of akin to the Brandenburg Gate in Berlin, which is now a pedestrian mall?
THEODOULOU: It's highly symbolic of the division of the island. That symbolism then will go, and that should really help with reconciliation. It sets out a goodwill message from the two leaders to show that progress can indeed be made in reunification talks which are due to begin in earnest in a few months time. They will be very difficult on the main issues that separate the two sides, even with the goodwill that there is on the island at the moment.
STEWART: Let's talk about - can you explain to us why there is goodwill on the island? There have been many attempts to reunite Cyprus, the most recent in '04, when the UN stepped in, but is it about these current leaders, is it their point of view that's making this possible? Or is there something else going on?
THEODOULOU: However, that leader didn't manage to get any better deal, in fact, didn't do much for four years, and he was voted out of power in February by the Greek Cypriots who have chosen this new leader. He heads a nominally communist party, and he came to power saying that he would try his best to get reunification talks restarted, and get a solution as fast as possible. So, the two sides now have leaders that do want to make headway with the talks.
STEWART: Mike, in our last minute, I do have a selfish question. Obviously, the United States, they'd really like to see this split resolved. What's in it for us?
THEODOULOU: The United States, as well as Britain and a few European pals, very keen to see Turkey brought more into the Western fold, to see it in the European Union because they see Turkey as a secular Muslim democracy bordering on countries in the Middle East such as Iran, Syria and Iraq. They see it as a stabilizing place, a good NATO ally, and they believe that a Cypress solution could help stability and increase NATO's strength in southeastern Europe.
STEWART: Mike Theodoulou is a reporter for The Christian Science Monitor. Hey, Mike, thanks for the thorough explanation.
THEODOULOU: My pleasure.
NPR transcripts are created on a rush deadline by Verb8tm, Inc., an NPR contractor, and produced using a proprietary transcription process developed with NPR. This text may not be in its final form and may be updated or revised in the future. Accuracy and availability may vary. The authoritative record of NPR's programming is the audio record.