Mobs in Mexico Attack Fans of Emo Music
Mobs in Mexico Attack Fans of Emo Music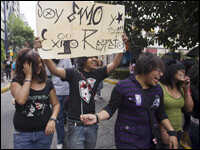 The word "emo" is short for emotional, and refers to a type of music and an aesthetic. Picture a teenager in skinny black jeans and eyeliner, black-dyed hair in her face, brooding in the corner. She's a member of a new Mexican social tribe, which — alongside metalheads and punks — has made its way from the U.S. to Mexico. But emo, more than the other groups, hasn't made an easy transition.
On March 7 in Queretaro, a city north of Mexico City, a mob descended upon a square where fans of emo music congregate. That night, three teenagers were severely beaten. The following week, fans marching in Mexico City to protest the violence were attacked. Ioan Grillo, a freelance journalist, who wrote about the situation for Time Magazine, says that, while Mexican authorities are working to curb the trend, a swell of anger at so-called "emo" kids is not likely to abate.
Grillo says the first attack was organized over the Internet, when users posted messages that proposed meeting at a downtown plaza favored by emo kids. "'Let's take back the square,'" Grillo says the posts read. "'These people are gay, they wear makeup. They don't have any culture, they're suicidal.'"
Video later posted to YouTube, Grillo says, showed a mob of 800 people gathering to "beat the hell out of these three people." He says disturbing videos were posted with celebratory messages. "This is great, emos are dying," he says one commenter wrote.
Homophobia seems to be one of the two main causes of the violence, Grillo says. "A lot of the messages are very focused on the homophobic element," he says. "When you saw the marches, a lot of people were shouting very clearly the Mexican words or insults people use for gay."
The second issue, he says, is class. "A lot of the emos in Mexico, as in the United States, tend to be middle-class kids," he says. "They're 15 or 16 years old, often going to private schools in Mexico, living in some of the better neighborhoods." He says the other kids — the metalheads, the punks — are coming from tough barrios. "They see these emos as being privileged, as well as being gay."
Another wild card, Grillo says, is a TV personality named Kristoff, who appears on a music channel aimed at young people. "He came on the channel and said that emo culture is worthless," Grillo says. "It's all about teenage girls that fancy the lead singers of bands. ... He was being very aggressive ... saying, 'This is rubbish, garbage, it's worthless culture.'"
Grillo says the authorities have tried to preempt further violence. In Mexico City, he says, they arranged a sit-down between emo fans and fans of other music, in advance of a planned march for tolerance. But when a crowd of 200 people started throwing bottles at the emo fans, police had to assemble in force, he says, which made it even worse
"When you see a group of these emos, marching, protected by a group of riot police, it makes the other kids even more angry," he says. Grillo says it was just a day or two before the march that Kristoff, an influential force in Mexico, first made his damning remarks about emo. "It looked like in a way he was was inciting this violence," Grillo says.