Bar Code Hopping in San Francisco
Bar Code Hopping in San Francisco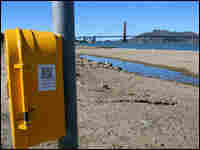 The City by the Bay is becoming scannable. Soon San Francisco restaurants, museums and public monuments will be adorned with little bar codes like those you find on the bottom of a cereal box.
Ultimately the idea is to make the city more navigable: A customer walks up to a restaurant that displays the bar code, takes a picture of it with a cell phone and then instantly downloads reviews, a menu and a wine list. Likewise, scanning bar codes on a bus stop could produce maps, and scanning a building could elicit fun facts.
"What our technology does is, using the camera on your phone as a navigational device, you point your camera and with one click you go directly to the information that you're looking for," says Jonathan Bulkeley, the head of ScanBuy, the company behind the San Francisco bar code pilot program. "You show people the technology, and they just go, 'Wow. When can I use that?'"
The technology is used everywhere in Japan — on bus stops, public monuments, even under paintings in museums.
In San Francisco, it's a bit more complicated. Though hundreds of restaurants and businesses already sport the little black and white boxes outside their doors, most people aren't currently equipped to scan them.
"There are a lot of steps between here and what we call mass market. A lot of steps and a lot of pieces that have to come together for this to work," explains Julie Ask, a personal technology analyst with Jupiter Research.
This particular effort in San Francisco could falter, Ask says, because of the technological hurdles. Only certain types of cell phones with Web capability, a high-quality camera and the downloadable software to access the bar codes can join the system.
In the next five to seven years, however, the visual navigation technology will likely take off, she says. If Japan's a good indication of where San Francisco is going, soon Bay Area hipsters will be donning T-shirts with their personal bar codes linking to their MySpace or Facebook page.