Is the Economy Ruining Your Vacation?

As the dollar slips further below the euro, it becomes a little less fun to plan the European getaway or second honeymoon.
Rick Seaney, co-founder and CEO of FareCompare.com, offers advice on how to get the best airfare this summer.
Travel guide writer Rick Steves weighs in on how to get the most bang for your travel buck once you arrive at your destination.
Tips for Traveling on the Cheap
Sometimes I get the feeling that there's a whole group of people out there who believe in a mythical amendment to our Constitution — one that guarantees us the "Right to Cheap Airline Tickets."
But anyone who's actually bought airline tickets in the past six months knows this in not an "inalienable right." The No. 1 reason: the exploding cost of fuel. The airlines are doing something about this. They are reducing seats and raising their prices. Steadily.
We consumers have two choices: complain — which is what folks did last year — or adapt. I think the answer is "intelligent adapting"; you accomplish this by making smarter airfare purchasing decisions.
It's important to remember that an airline is in business to sell you a seat on a flight for as much money as possible. Airlines can and do change hundreds of thousands of airfare prices every day and at different times of the day. They study your buying behavior and use this knowledge to charge you more.
With all this in mind, you're ready to start shopping — that's shopping, not buying — do some research and some comparisons first. Here are some handy tips to get you started:
Be Flexible. Be willing to travel outside the typical weekend-to-weekend "box." Fly less-popular times of the day (6 a.m., noon, and late evening). Switch from your home airport, if you can get a better deal at a neighboring airport — even if it means driving an hour or two.
Don't Procrastinate. Airlines manage the cheapest seats in a four-month window before departure; any earlier, and you will be charged a mid-tier price. Waiting until the last minute used to mean you could find some great deals, but not anymore. Today, planes are packed, so airlines have no incentive to lure last-minute shoppers.
Fly on the Cheapest Days. Wednesdays are usually the least-expensive days of the week to fly. The next best days are Tuesdays and Saturdays.
Fly Hub Cities (Usually). If you are in a small-ish city, it may pay to drive to the nearest big airport. Look for an "option" button that allows you to compare prices with "nearby airports."
Don't Sit on the Sidelines. When you see a good deal, be prepared to pull the trigger. Airlines are reducing capacity and planes are filling up faster than ever; know what a good price is. Check the price history of your route, and buy quickly when you see a good deal.
Learn When to Buy Tickets to Europe. International travel has well-defined "seasons" that determine price points. If you know when these seasons begin and end, you can save hundreds of dollars by flying one day (say, at the end of a cheap season), as opposed to the person who travels the next day (at the start of a new, more-expensive season). European "Open Skies" launched on March 30, with numerous sales. Look for similar buzz-generating sales at any time new airlines or routes are introduced.
How to Stretch Your Dollar in Europe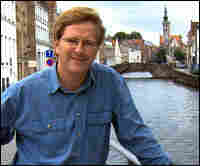 I'm not going to tell you that travel to Europe is cheap. It's not. But 12 million Americans — the vast majority of them normal working people — had a blast in Europe in 2007. So don't mope. Just get smart and stretch that wimpy little dollar. Here are ways to keep your travel dreams affordable in 2008:
Stay at a Bed and Breakfast or Hostel. A B&B offers double the warmth and cultural intimacy for half the price of a hotel. You'll find them in most countries. Europe's 2,000 hostels have countless cheap dorm beds for half the price of beds in low-end hotels. And it's not limited to youths. Anyone can hostel.
Stay at a Simple, Chain Hotel. Throughout Europe, budget-chain hotels rent efficient, if forgettable, rooms for prices nearly as inexpensive as B&Bs. These cookie-cutter rooms — which cost the same for singles, couples or even a family of four — offer the greatest savings for traveling families. Save by choosing simpler hotels. A three-star place is a bad value for a budget traveler who's satisfied with a one-star place. And some one-star hotels still offer rooms without a private bath (it's down the hall), saving you another 20 percent.
Pack the Room. Funky European hotels have rooms of all sizes, and hoteliers are often happy to pack in extra beds. The more people you put in a hotel room, the cheaper it gets per person.
Skip the Hotel Breakfast. Hotel breakfasts, while convenient, are rarely a good value. If your breakfast is not included, save money and gain character by joining the local crowd at the corner café.
Don't Eat at Touristy Restaurants. Avoid touristy restaurants with "We speak English" signs and multilingual menus. Eateries that are filled with locals aren't always cheaper, but they serve better food at a better value.
Picnics Save You Money. $20 buys a hearty picnic lunch for two anywhere in Europe. Stock your hotel room with drinks and munchies upon arrival. You can pass train rides enjoyably over a picnic meal.
Drink at the Bar, Not at the Table. Throughout southern Europe, drinks are cheaper at the bar rather than at a table. Those just tossing down a quick drink can save 40 percent by doing so at the bar.
Find Grocery Stores. 7-Eleven-style convenience stores are the rage in northern Europe ... but bigger grocery stores will save you 30 percent on snacks, drinks, picnic fare and take-away food.
Find Cheap Eats. Some of the best cheap eateries are in or near open-air markets. They cater to market workers and savvy local shoppers.
Dining on a Dime. To save money in restaurants, couples can order two side salads and split an entrée. To save more, request tap water instead of mineral water, drink the house wine and share a dessert.
Don't Over-Tip. Only Americans tip 20 percent in Europe — even when it's already included or not expected. When in doubt, ask locals for advice.
Fly "Open Jaw." Flying into one city and out of another can avoid a needless, costly and time-consuming return to your starting point.
Do You Really Need the Rental? Cars are worthless and expensive headaches in big cities. Pick up your rental car after the first big city you visit, and drop it off before the final big city of your trip. (Paying $35 a day to park a $50-a-day car while touring a city is a pricey mistake.)
Bus, Don't Train. Buses, while generally slower, are about half the cost of trains. Buses are especially economical in Britain, home of Europe's most expensive train system.
Use Public Transit. Use public transit for airport transfers. Every major airport has efficient money-saving alternatives to taxis.
Shop in Cheap Cities. Do most of your shopping in the cheaper countries where gifts are more interesting and your dollar stretches the furthest. The difference is huge: For the cost of a pewter Viking ship in Oslo ($200), you can buy an actual boat in Turkey.
Shop at Stores, Not Stands. Anywhere in Europe, big department stores sell folk art, souvenirs and postcards for 20 percent less than shops and stands on the streets and at the sights. Department stores also come with inexpensive cafeterias and free bathrooms.
Checks or Cash? Use ATMs rather than travelers checks. While ATMs give the best possible rates, they do come with transaction fees. Minimize these by making fewer and larger withdrawals.
Don't whine about the weak dollar — enjoy spending it smartly. Those who travel wisely save more money, make more friends and create a more memorable — a truly richer — experience.
Adapted with permission from Rick Steve's 2008 Best Destinations Newsletter.