Backroom Primary: Wash. Superdelegate for Clinton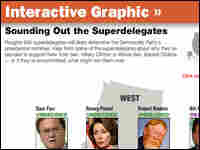 Related NPR Stories
From his desk in a Seattle office tower, King County Executive and Democratic superdelegate Ron Sims looks straight out at Mount Rainer that looms like the Sphinx.
These days, Sims is focused on his computer inbox. He has trouble wading through the volume of email he receives as a superdelegate.
Rims is an African-American politician from Seattle, who supports New York Sen. Hillary Clinton. But given the momentum that Illinois Sen. Barack Obama has gained in the race, including his lead in pledged delegates, Sims admits that he may change his vote.
His choice of candidate would be obvious, if he followed the lead of his state.
Obama took the Washington caucuses two-to-one, winning by an even greater margin in King County. But Sims says, as a superdelegate, he considers himself a representative of all county governments. Still, he acknowledges other influences such as a friend he calls "Bill."
On his office wall, there is a photograph of the former President Clinton campaigning with Sims in 1994. The First Lady was also gracious to him in those years, he says, by inviting him to White House functions.
But as a Clinton backer, Sims is the odd man out in Seattle, especially among black voters.
"You can't guilt me because you would then question my commitment to the aspirations of African-Americans, so people have left that alone. It's not a good place for people to take me," he says.
Still, Sims likes Obama, and he sympathized when the candidate was attacked for inflammatory statements made by his pastor.
As the primaries wear on, this Clinton stalwart is showing signs of flexibility. He says it is going to be difficult for Clinton supporters such as himself to deny Obama the nomination if that is the will of the voters.
Sims is not about to announce any changes, yet. He says there is growing agreement among superdelegates to let the primary season run its course. Right after the last primaries on June 3, he expects they will quickly line up in such a way as to end the fight then and there.