Food Is Morale Booster or Breaker in Antarctica
Food Is Morale Booster or Breaker in Antarctica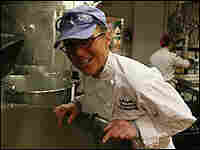 An Antarctic Dessert
Cooks in Antarctica often recreate recipes from gourmet magazines. NPR's Daniel Zwerdling enjoyed this dessert during his visit to the continent.
Mealtime can be the highlight of the day for those who live and work in Antarctica's barren, frozen landscape. That's why the emotional center of the main U.S. base on the continent is — the cafeteria.
At McMurdo Station, the main base, the dining hall for its 1,100 residents is nestled in an unattractive complex of metal buildings and tacky dormitories that the Navy built in the 1950s and '60s. But it's one of the most popular places at the bottom of the world.
Mike Ebel, a maintenance worker who recently dined at McMurdo Station, says the quality of its cuisine can "make or break morale of the whole station."
"On good food days, the town is happy. On bad food days, we kind of grump around," he says.
Sally Ayotte, McMurdo's head chef, is a wiry woman who knows how important food is at the base, though it took her a while to realize just how important.
When she arrived on the continent in the 1990s, she says she became depressed because of the climate. In Antarctica, the sun rises once a year and then blazes 24-hours-a-day for months. The sun sets only once a year, and it stays dark for months. Most people are trapped at the station — wandering far from the base could result in death.
Ayotte says that one day it suddenly hit her: Everybody in Antarctica was in the same boat, and she had an opportunity to make them happy.
McMurdo is an all-you-can eat locale. There are often omelet stations and roast beef stations. Rows of stainless steel warming trays are piled with mountains of food. On any given day, the menu could feature spicy shrimp with rice noodles or grilled mahi mahi with papaya salsa. For vegetarians, there is mushroom and barley risotto or falafel with tzaziki sauce.
Most of the food is shipped in once a year after an icebreaker clears the way, so most of the ingredients are frozen, canned or dried. But the McMurdo chefs work with what they have and often they create recipes from magazines such as Gourmet and Martha Stewart to keep the clientele happy.
Occasionally, diners lose it. Despite all the menu options, the institutionalized feel at McMurdo can often push people's buttons. Ebel, the maintenance worker, says he went "berserk" once in 1994 because he thought the cooks were always flavoring dishes with curry.
"I cleared that galley once, I cleared the whole serving area," Ebel recalls. "They were peeking around the corners at me, 'Mike calm down!' And all the food and plates got in the way."
Despite that embarrassing incident, Ebel has become a valued employee on the base. In fact, government officials just named a small mountain for him in Antarctica: Ebel Hills, 7,500 feet high.