Clinton's Candidacy: An Established Brand
More in This Series
In a three-part series, NPR examines the presidential campaigns as business school case studies — where the bottom line is votes rather than profit. Browse previous reports:

Part One: The Obama Franchise: Harnessing Activists' Energy

Part Two: McCain: The Longstanding Brand That's Now Hip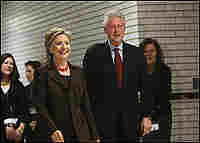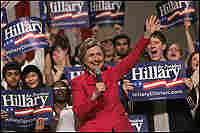 Nicholas Kamm/AFP/Getty Images
A presidential campaign can resemble a business: Some of the same principles of marketing and leadership apply, including the business concept of a "brand."
This is where New York Sen. Hillary Clinton had an advantage coming into the race. Her husband was president for eight years, and just about everyone knows the Clinton name. In marketing terms, Bill Clinton is an established brand.
But Hillary Clinton herself is not as established, according to Susan Jung Grant, assistant professor of marketing at the University of Colorado at Boulder.
Imagine an established brand, such as Lay's Potato Chips, says Jung Grant. "Perhaps Sen. Clinton could be sour cream and chive potato chips," she says. "It's the idea that it's a little bit different from the main category."
While the established brand is familiar and can lend credibility, it also has some drawbacks. "People feel like, 'Well, we know this candidate. We know what to expect.' And so, maybe, it's not invoking people to take a second look — maybe ... there is almost too much familiarity," Jung Grant says.
Perils of Established Brands
An established brand can start to look staid, but new information can freshen it up. Take the red wine industry as an example, Jung Grant says. As soon as consumers learned there were health benefits associated with drinking red wine, sales increased substantially.
The same phenomenon occurred, she says, with Clinton's now-famous show of emotion at a café before the New Hampshire primaries. Voters saw a side of her that they did not know. Jung Grant says similar bits of new information about Clinton could help her.
But Clinton's tears were out of character, says Stephen J. Wayne, professor of government at Georgetown University. He has studied Clinton's personality and concluded that she is not much of a risk-taker.
"What Mrs. Clinton touts is her experiences," Wayne says. "She's been there. She's acquired a toughness. She's a survivor. Survivors — people who've been hurt in the past — tend to be overly cautious."
Clinton's Management Style
Clinton's negative experiences — including leading a failed health care task force during her husband's administration — have affected her management style, says Wayne. She does not always trust others to do as good a job as she will, so Clinton has difficulty delegating authority.
"Clinton says she will be a hands-on manager, that she will get down into the agencies and make sure that they're implementing the processes that her brain trust put together in the White House," says Jim O'Toole, a business school professor at the University of Denver.
Clinton provided insight to her management style at a January debate in Las Vegas. "I think you have to be able to manage and run the bureaucracy," she said. "You've got to pick good people, certainly, but you have to hold them accountable every single day."
Illinois Sen. Barrack Obama is a hands-off manager and easily delegates authority, says O'Toole. These differing management styles mirror a debate that has been taking place at business schools over which style is more effective. The hands-on model has been practiced by a lot of the biggest companies, including Wal-Mart, where Clinton served on the board of directors for six years.
Obama's management style reflects what is happening at technology start-up companies, according to O'Toole. That could explain why his supporters tend to skew younger than Clinton's.
"Young people are comfortable with the flannel-shirted software CEOs," says O'Toole. "A lot of older people are more comfortable with the General Motors approach."
Which style do voters prefer? That will be answered in November. Meanwhile, Clinton, in the spirit of those old Lay's Potato Chips commercials, is hoping the country will want more than just one Clinton.