Superdelegate Role Complicates Re-Election Bid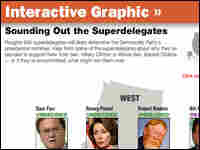 Related NPR Stories
Freshman Democratic Rep. Jason Altmire looks like he could still suit up in the football jersey that is framed in his outer office.
He might welcome the padding to fend off some of the hits he has taken as an uncommitted superdelegate in a Pennsylvania district where he is facing a tough re-election battle in November.
With the Pennsylvania primary only two weeks away, there is intense pressure on the state's superdelegates, who are being courted by both Democratic candidates, Illinois Sen. Barack Obama and New York Sen. Hillary Clinton.
Altmire says even his constituents are ratcheting up the pressure. "Sen. Obama had a rally in my district on St. Patrick's Day, which I attended, because I make it a point to attend anything that's in my district, and the media reported it. We got a few dozen calls from people supporting Sen. Clinton, saying that you should think twice if you're going to support Sen. Obama."
The message was clear. If Altmire supported Obama, the Clintons' supporters might not back him come November. Altmire is likely to face a tough rematch in his southwestern district with the Republican he ousted from the seat in 2006.
When he returns the calls of the Clinton supporters, Altmire says they frequently tell him that this is Clinton's time and that she has earned this; Obama is young and can afford to wait.
Because Altmire has not yet committed to a candidate, he has heard plenty from both Democratic hopefuls — and their spouses.
"Sen. Obama first called me in June 2007 and asked for my support," he says. "At that time, no one thought Pennsylvania would be relevant. No one thought superdelegates would be relevant. He was already thinking to the long term."
Altmire says Clinton's campaign did not reach out until just before the Texas and Ohio primaries in early March.
Former President Clinton called him twice, reminding Altmire that he won his district when he ran for president, even though it is typically seen as a Republican stronghold.
Of course, Bill Clinton will not be on the ballot in November, and Altmire is worried about the fallout from this race.
"This campaign has gotten to the point where, whatever side I come down on, I am going to alienate voters because there is an animosity that's built up between the two campaigns," he says.
Altmire says he plans to support whoever winds up with the most pledged delegates and the greatest popular vote. He thinks that is likely to be Obama.
But Altmire says whoever ends up with the Democratic nomination will have a tough time in his district in the fall against Arizona Sen. John McCain, the presumptive Republican nominee.