Cauliflower: A Love Story
Hear an interview with Nicole Spiridakis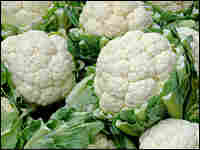 About the Author
Nicole Spiridakis lives in San Francisco and writes about food, travel and her native state on her cooking blog, cucinanicolina.com. When she's not in her (tiny) kitchen working on a new dish, she writes a column about apartment living for the San Francisco Chronicle's Home and Garden section.
A confession: I'm obsessed with cauliflower. And I'm not sorry.
If a head of this funny-looking crucifer doesn't find its way into at least one meal a week, I'm either having a bad month or am out of town too much. A dinner without cauliflower feels off-balance, lackluster. A life without cauliflower is no life at all.
It wasn't always thus.
Back when I was a more finicky diner, cauliflower hardly made it onto my vegetal horizon. When we did meet — steamed, stir-fried or sauteed — I usually politely demurred and pushed it to the side of my plate. Maybe I liked it raw, but only as a vehicle for some of those awful-yet-irresistible onion dips, its cool crunch couched in smooth sour cream so that I hardly noticed what was underneath.
But we all grow up, and my palate grew up, too. I started to appreciate all the colors of the garden, and was more willing to try new things. I came, reluctantly, to beets (when they're roasted and used as a base for spinach salad one might experience a small taste miracle). I wholeheartedly embraced asparagus. Then, one chilly night in San Francisco, inspired by my farmers' market, I tossed a bunch of cauliflower florets lightly in olive oil and salt and threw them into the oven — and I fell in love.
There was no going back.
"Cauliflower," wrote Mark Twain, "is nothing but cabbage with a college education." What's wrong with cabbage? Neither should be maligned.
There are so many ways to adore you, cauliflower. I love you for your delicious, crumbly gratins baked for an hour in the oven on Friday evenings. I love your Monday night soups quickly whirled together and laced with mushrooms and herbes de Provence. I love your lazy Sunday afternoon curries served with coconut rice. But I think best of all I love you slow-roasted at 400 degrees for about a half hour.
Cauliflower (brassica oleracea var. botrytis) is related to the aforementioned cabbage, as well as broccoli, and belongs to the plant order capparales. The plant reproduces by seeds and is found in most supermarkets year-round, and is good any night of any season.
Cauliflower is thought to have origins in Cyprus, which may explain my passion. I love all things from that part of the Mediterranean. I wonder if the Greek side of the family I've never met grew creamy cauliflowers in their island gardens and served them with fresh, stewed tomatoes and feta cheese.
My favorite approach is to find an organic, healthy-looking head and, after washing, to cut it into smallish pieces and coat with olive oil and salt. I then roast it until easily pierced with a fork, and when it's alternately soft and crispy with good blackened bits along the sides of the pan, I pick at it gingerly with a spoon while hovering nearby and waiting for it to cool. A roasted cauliflower is nothing less than transcendent.
As my love affair with cauliflower progressed, I longed to know more about it, especially those colorful specimens I'd see in the market — green, orange, purple. It was not enough that cauliflower is delicious and colorful. It's also good for you, low in fat, high in fiber, folate, vitamin C and vitamin B6.
As I pored through seasonal cookbooks, I found that the orange heads — which include "cheddar" and "orange bouquet" varieties — contain 25 times the level of vitamin A of white varieties.
Green cauliflower, sometimes called broccoflower, is seen with the normal curd shape and in a variant spiky curd called romanesco broccoli. These green-curded types include alverda, green goddess and vorda. There also is purple cauliflower, its color caused by the presence of the antioxidant group anthocyanin. It is exotically named "graffiti" and "purple cape."
Like broccoli, cauliflower, as a member of the brassica family, has several phytochemicals (fruit- and vegetable-derived chemical compounds beneficial to human health) including sulforaphane, an anti-cancer compound released when the vegetable is chopped.
Cauliflower's main selling point, though, is that it tastes so good. I dream about cauliflower roasted until it softens and blackens, the heat bringing out its inherent sweetness. With a poached egg and a slice of good bread, the caramelized florets make a quick and delicious weeknight supper.
And cauliflower soup. Oh, I could write poems to a creamy, garlicky broth made from simmered florets and a dash of herbs and black pepper. Be not afraid of a certain blandness that can mark vegetable soups; if you leave out milk, the true, delicate flavor of the cauliflower sings through, and you'll be scraping your spoon at the bottom of your bowl wishing for more. That you're also getting a bellyful of vitamins C and B6 is simply an added attraction.
Bestemor's Blomkal Gratin
Nicole Spiridakis for NPR
This dish is inspired by my boyfriend Michael's grandmother. (Bestemor is "grandmother" in Norwegian; blomkal is "cauliflower.") I've added a few more ingredients than her original recipe to update it for my American palate, but the essential flavor is the same.
Makes 4 to 6 side-dish servings
2 to 3 tablespoons olive oil
1 onion, thinly diced
2 cloves garlic, thinly sliced
1 large tomato, coarsely chopped
Salt and pepper
1 large head cauliflower, washed and separated into florets
1 teaspoon dried basil
3 tablespoons unsalted butter
3 tablespoons flour
1 1/3 cup milk
5 eggs, separated
Dash nutmeg
2 tablespoons Parmesan cheese
4 tablespoons bread crumbs
Preheat oven to 350 degrees.
Heat oil in a 10-inch skillet over medium heat. Add onion and garlic and cook until the onion is wilted, about 5 minutes. Add the tomato, cook for 7 minutes more, and then season with salt and pepper.
Meanwhile, steam the cauliflower for 5 to 10 minutes until slightly soft. In a large bowl, mix the cauliflower gently with the garlic, onion and tomato, and season with basil, salt and pepper. Transfer the cauliflower to a 2-quart shallow baking dish.
Melt the butter in a saucepan over medium-high heat. Add the flour. Cook for 3 minutes, whisking constantly. Pour in the milk and whisk well. Bring sauce to a simmer and cook for a few more minutes, stirring as the mixture thickens. Season with salt, pepper and nutmeg. Remove from heat and let cool for a few minutes.
With an electric mixer, whip the egg whites until stiff, but not dry. Gently fold into the butter and flour sauce.
Pour the sauce evenly over the cauliflower, top with the Parmesan cheese, sprinkle with bread crumbs and bake for about 20 minutes, until the cheese is melted and bubbly. Let rest for 5 minutes before serving.
Cauliflower Soup
Nicole Spiridakis for NPR
I make this soup without milk because I don't think you need it. However, if you want a bit of richness, add 1/2 cup of milk or soy milk to the soup after it is pureed, and stir gently to combine.
Makes 6 servings as an appetizer or 4 main-dish servings
1 onion, diced
3 cloves garlic, diced
4 tablespoons olive oil
1 medium to large head of cauliflower, washed and separated into florets
4 to 5 cups vegetable broth
1/2 cup milk or soy milk (optional)
1/4 teaspoon salt
Dash freshly ground black pepper
1 teaspoon herbes de Provence (optional)*
10 thinly sliced shiitake mushrooms
In a large saucepan, saute onion and garlic about 5 minutes on medium heat in 3 tablespoons of the olive oil. Add the cauliflower and broth (you may add water or more broth as needed) and the milk, if using. Bring to a boil, and then simmer, half-covered for about 20 minutes until cauliflower is tender. Remove from heat, and puree with an immersion blender or in a food processor, until smooth. Add 1/4 to 1/2 cup of water if the soup is too thick.
Saute the mushrooms in the remaining 1 tablespoon of olive oil over medium heat until soft. Add the mushrooms to the soup after you have pureed it; add salt and pepper to taste. Add the herbs if using. Reheat gently and serve hot.
*Herbes de Provence typically is a mixture of dried rosemary, marjoram, basil, bay leaf and thyme. It is available in supermarket spice aisles or at specialty stores.
Roasted Cauliflower
Nicole Spiridakis for NPR
This recipe is more of a guideline. For example, if you follow a low-sodium diet, it's perfectly acceptable to omit the salt (and, conversely, if you're a salt-lover, to add a little more). The key is to roast the cauliflower until it becomes caramelized — don't be alarmed if some of the florets get slightly blackened, as this just adds to its addictive flavor.
Makes 4 side-dish servings
1 medium to large head cauliflower, washed
1/2 teaspoon salt
3 to 4 tablespoons olive oil
Preheat oven to 400 degrees.
Trim any leaves and cut the cauliflower into quarter-inch slices. Toss with the olive oil and salt, spread in a single layer in a baking dish and roast until it begins to brown a bit and the oil is sizzling.
Turn the pieces once or twice and give the pan a good shake while it's roasting, about 25 minutes.
Curried Cauliflower with Chickpeas
Nicole Spiridakis for NPR
If you have more time, you could also make this using the previous recipe for roasted cauliflower, though it is perfectly delicious on its own, without being pre-roasted.
Makes 4 servings
5 tablespoons olive oil
4 cloves garlic, thinly sliced
2 teaspoons peeled, minced fresh ginger
1 teaspoon curry powder
1/2 teaspoon cayenne pepper
1/2 teaspoon turmeric
1/2 teaspoon salt
1 onion, thinly sliced
1 medium or large head cauliflower, washed and broken into florets
1/4 cup water
1 (8-ounce) can chickpeas, drained and rinsed, or 1 cup dried chickpeas that have been soaked and are ready for cooking
Rice or couscous
In a large frying pan, cook the garlic, ginger and spices in the olive oil over medium heat for 1 minute to form a paste.
Add the onions and turn heat to low; cook for about 5 minutes until onions begin to soften.
Add the cauliflower and 1/4 cup of water, and cook on high heat for 1 minute, then turn heat to low and simmer gently. Cook for about 10 minutes until cauliflower becomes tender, but not mushy.
Add chickpeas and cook a few minutes more to let the flavors blend and the dish is hot.
Serve over brown or white rice, or couscous.